1. HOW MANY SPECIES OF PUFFINS LIVE IN THE WORLD?
Puffins belong to the Alcidae (Auk) family of seabirds.There are 4 species of puffins. They are:
a) Atlantic Puffin: The Atlantic Puffin (formerly Common Puffin) lives in the North Atlantic. It is the smallest of the puffins and is readily separated from the similar Horned Puffin by the steel-blue triangle at the base of its beak. Range: See answer to question #3, below.

b) Horned Puffin: The Horned Puffin looks similar to the Atlantic Puffin however it is easily distinguished by its mostly yellow bill with orange tip (missing blue/gray section towards base of bill). The Horned Puffin receives its name from the horny projections that extend above its eyes. Range: Breeds from northwestern Alaska south along coast to Alaska-British Columbia border. Winters far at sea south to waters off California. Irregular spring records from Washington, Oregon, and California. Also on northern coast of Asia.
c) Tufted Puffin: The Tufted Puffin is the largest puffin and is characterized by long, straw-colored feathers that extend back from its crown during the mating season. Range: This species of puffin breeds from northwestern Alaska south along coast to central California, and winters at sea throughout the North Pacific. Also, on northern coast of Asia.
d) Rhinoceros Auklet: Although this Puffin differs noticeably in outward appearance from the other three species of puffin (which accounts for its misnaming), this sooty-brown bird is anatomically still a puffin. During the breeding season a pale knob projects upward from the base of the upper mandible giving a Rhinoceros-like appearance to its otherwise more narrow and shallower bill. This puffin usually comes to land at night. Range: Breeds sparingly on Aleutian Islands and more abundantly from Alaska Peninsula south along coast to central California, where its populations are increasing. Probably winters in inshore and offshore waters from breeding colonies south to southern California. Also on northern coast of Asia.

2. HOW MANY ATLANTIC PUFFINS ARE THERE IN THE WORLD?
Estimates range from 3 to 4 million pairs.



3. WHERE ARE ATLANTIC PUFFINS FOUND IN THE WORLD?
Atlantic Puffins are found exclusively in the North Atlantic Ocean. In North America, they nest from Labrador/Newfoundland to the Northeastern United States. In Europe, they nest south to the Brittany Coast of France, northwards to Iceland, Greenland, and Northern Russia. Most of the world's puffins are found in Iceland, where sixty percent of the population breeds.



4. HOW DID PUFFINS GET THEIR NAME?
The word puffin is thought to be derived from the word 'puff' which refers to swollen. And it is the puffin chick that contributes best to this name because of its round, puffed look resulting from its dense cover of down feathers - an adaptation for retaining body heat while the parent is off fishing. Indeed, they resemble little puff balls with beak and feet. Puffins have also been called "clown of the ocean" and "sea parrot" because of their clown-like facial markings and colorful beak (more like that of toucans).

The puffin's scientific name, Fratercula arctica dates back to the last half of the 1800's. This name means "little brother of the north" in Latin. Little brother alludes to 'little friar' referring to the puffin's black and white plumage which is reminiscent of a friar's robes. A second connotation of little friar may be drawn from the puffin's sometime habit of holding it's feet together when taking off, suggestive of hands clasped together in prayer.

Puffins are usually 10 inches tall (18 cm), which is about the height of a quart jug of milk. The puffin weighs about 500 grams, similar to a can of soda.
Adult puffins mostly eat small fish, such as sand eels, herring, hake and capelin. Puffin diets vary from colony to colony because of the variety of fish around the breeding islands. During winter puffins may also eat crustaceans, but their preferred food is fish. The young puffins are usually fed fish by their parents. Parents carry fish in their bills and either drop them on the burrow floor or pass them to the chick. Parents usually feed the chick several times each day.

7. HOW MANY FISH CAN A PUFFIN CARRY IN ITS BEAK AT ONE TIME?
Puffins can carry several fish back to their nest at a time. The average catch is around 10 fish per trip but the record in Britain is a whopping 62 fish at once! The puffin's beak is specialized to hold all these fish. The puffin's raspy tongue holds fish against spines on the palate, while it opens its beak to catch more fish.

8. HOW LONG CAN A PUFFIN STAY UNDERWATER?
A puffin can dive for up to a minute but most dives usually last 20 to 30 seconds. While underwater, the puffin swims by using its wings to push it along under the water almost as if it were flying, while using its feet as a rudder.

A puffin can fly 48 to 55 mph (77 to 88 km/hr). The puffin beats its wings rapidly to achieve this speed reaching up to 400 beats a minute. The wings can move so fast that they become a blur, giving a flying puffin the appearance of a black and white football.

10. HOW CAN YOU TELL A MALE FROM A FEMALE PUFFIN?
Males are usually slightly larger than females, which is most noticeable only when a pair is standing together.

11. HOW OLD DO PUFFINS HAVE TO BE BEFORE THEY CAN REPRODUCE?
Most puffins do not breed until they are 5 years old. The earliest a puffin may breed is at age 3 but this is only known from zoos. Puffins live a long time and use their pre-breeding years to learn about feeding places, choosing a mate and nest sites. They do bond as pairs.

12. HOW DO PUFFINS DIG THEIR BURROWS AND HOW DEEP ARE THEY?
Puffins dig their burrows using their bills and feet. They prefer to make their burrows in earth or between rocks on steep sea cliffs so predators cannot easily reach them. They use their bills to cut into soil and then shovel away loose material with their feet. They dig dog-like, shoveling dirt out behind themselves. Most burrows are 2 to 3 feet long (70 to 110 cm), which is as long as the arm length of an adult human. At the back of the burrow the parents build a soft nest of feathers and grass where they incubate the egg. The burrows often have a toilet area at the first bend. The young chick uses this area as a bathroom so it doesn't soil its feathers. As it matures, the toilet is moved closer to the burrow entrance, helping to keep the chick clean. If the chick became too soiled, it may damage it's waterproofing, a fatal circumstance once the chick takes to sea.
13. HOW MANY EGGS DOES A PUFFIN LAY?
Puffins typically lay 1 egg per year. They usually keep the same mate every season and use the same burrow as in previous years. The male and female share the duties of incubating the egg and rearing the chick. Puffin chicks need a lot of care and need several feedings per day. Sometimes the puffin parents will leave the egg by itself early in the incubation stages, but as the hatch date nears, they tend to sit on the egg for longer periods of time. The egg needs approximately 40 days or so of incubation before it will hatch.

14. HOW LONG CAN PUFFINS LIVE?
Puffins often live 20 years or more. The oldest known puffin lived to be 36 years. Maximum age is difficult to determine because while researchers are able to band birds, puffins abrade these bands by nesting among boulders as well as spending the majority of their lives in the open ocean, which causes leg bands to corrode over time. Both these mechanisms cause bands to become too worn to read. Note that Puffins sometimes have TWO bands on their legs. The one with the long string of numbers is issued by the US Fish and Wildlife Service, and that number is unique to that individual bird. But, because the longer numbers are sometimes difficult to read in the field, Project Puffin creates a special "Field Readable Band" which is only used for Maine Coast Projects. This band has fewer letters and numbers, and can be easier to read by Project Puffin staff members observing birds through spotting scopes, and easier to see if the bird is captured on camera.

15. WHY DO PUFFINS HAVE COLORFUL BEAKS?
During winter, the bills and feet of puffins fade to dull shades of their summer colors. Every spring their beaks and feet turn a colorful orange in preparation for the breeding season. The beaks and feet of puffins become brightly colored and the beak increases in size as the bird matures. The size and color of puffin beaks may serve as badges of experience and help birds assess the 'quality' of potential mates.

16. HOW DO PUFFINS COMMUNICATE WITH BODY MOVEMENTS?
Puffins use body movements to communicate in a variety of situations. In mating and courtship the puffins will pair up before they come onto the island from the ocean. Once they are on land, the pair may perform billing, a behavior where puffins rub their beaks together. This display often draws a crowd of puffins to share in the excitement.
An aggressive encounter between two puffins often begins by gaping. This involves a puffin puffing up their body to look bigger and opening their wings and beak slightly. The wider the beak is opened the more upset the puffin. The puffin may also stomp its foot in place to show its displeasure. The bright colors of the feet and beak help illustrate these motions. If the aggressive encounter escalates into a full-scale brawl the puffins will lock beaks. They will then attempt to topple each other in a wrestling match by using their feet and wings in a flurry of action. A fight may gather a crowd of 10 or more puffin spectators. The combatants may become so involved in the fight they end up rolling off their rocky perch.
A puffin also communicates information in its manner of walking. If the puffin is walking rapidly with its head lowered it is saying, "I am just passing through and don't mean any trouble." This is called a low profile walk and is useful because the colony is very crowded and a puffin is often crossing another puffin's territory as it walks. The puffins that are guarding burrows usually assume a pelican walk position that has the puffin stand stiffly erect with its beak next to its body and using slow exaggerated foot movements. This makes the puffin look like a soldier on guard duty, which is just what it is doing by guarding the burrow.
After a puffin lands it will assume a post-landing position. This is a site ownership display that serves as a mild threat to nearby puffins. This position consists of landing with one foot in front of the other foot, with wings outspread and head angled down. This is a sign of non-hostility that relieves tension when landing in a group of puffins. It helps prevent puffins on land from chasing the 'intruder' from their favorite loafing ledge. This permits large numbers of puffins to congregate together, which has important social and predator defense benefits.

17. WHAT SOUND DOES A PUFFIN MAKE?
Puffins make loud growling calls usually from underground which sounds like a muffled chainsaw. The chicks "peep" for food from parents. Choose a call from the list below to hear what a Puffin sounds like.
18. WHERE DO PUFFINS GO IN WINTER?
Puffins breed in colonies from April to August and over-winter from August to early spring on the open ocean far from land. Puffins tend to disperse widely during this time and as a result it is difficult for scientists to learn about this aspect of their life. Puffins are wonderfully adapted to spend months at sea. They have waterproofed feathers, the ability to drink salt water and catch food.

19. HOW DO PUFFINS FIND THEIR WAY HOME?
Puffin chicks leave a colony when they fledge and head off to the ocean without their parents. They remain in the open ocean until they are 2-3 years old. Then they return to the vicinity of the colony where they hatched and may nest near the burrow where they hatched. Scientists are unsure how puffins find their way home and are still learning how birds migrate. The puffins may make a mental map of their birthplace and use this to return later. They may use stars, the earth's magnetic field, sounds, smells and the visual cues of the ocean to help them make this map. While the ocean appears uniform to us, to seabirds it holds vast amounts of information we can't sense. We still have much to learn from the migrations of seabirds.

20. WHAT ENEMIES DO PUFFINS HAVE?
The greatest natural predator of the puffin is the Great Black-backed Gull. This gull can catch adult puffins in mid-air. The Great Black-backed Gull will circle high above a puffin colony and pick out a solitary puffin and catch it from behind by dive bombing the unwary puffin.
Cleptoparasites are birds that steal a puffin's food. Herring gulls often wait for puffins returning from sea with a beakload of fish, pursue them and steal the fish. They also will pull puffin eggs or chicks from their nest. Puffins avoid cleptoparasites by dashing for the safety of the burrow entrance to deliver fish and to avoid gulls. Puffins often circle past their burrow a dozen times or more waiting for a chance to safely deliver food.
Predators of puffins depend on the puffins as food to feed their own young. Although the sight of gulls eating a puffin is not pleasant, predation at large colonies does not hurt the puffin colony because the majority of the puffins survive.

21. WHAT EFFECT HAVE HUMANS HAD ON PUFFIN NUMBERS?
Humans have had a very negative effect on puffins in the past. Today, there are threats on land and at sea. For example, over-fishing has caused a disaster for the colony on Rost Island in Norway. In recent years puffin parents have not caught enough fish to feed their chicks. Thousands of chicks have starved. This happened because people drastically depleted the herring stocks.
Over-hunting occurs when too many individuals of a particular species are killed and the remaining population is unable to replace losses. Over-hunting puffins for food and feathers caused the loss of puffins from several colonies in Maine such as Eastern Egg Rock.
Mammals (such as fox and rats) introduced by humans, can be very destructive because the puffins do not have adaptations to avoid them. Puffins choose isolated islands to breed because there are no large predators on the ground to disturb their nesting. If humans introduce mammal predators to these islands, the puffins are very vulnerable and may no longer be able to use that island for breeding.
Oil spilled by tankers and drilling operations can destroy the waterproofing on puffin's feathers causing them to die of exposure to cold temperatures. Also, they become sick when they swallow oil while attempting to clean their feathers. Chemicals from farming that flow from farm to river to ocean can also make puffins sick.
Uncontrolled tourism can be harmful to puffin colonies because they need solitude to breed. People who get too close may scare off parents from their duties of feeding their chick. As long as tourists stay on boats at a safe distance and do not disturb the puffins, they can easily enjoy watching a colony during the nesting season.
While humans have hurt puffin numbers in the past, we also have the ability to restore and protect colonies. We need to reduce pollution of our coasts and do a much better job managing our fisheries. This benefits seabirds and people.
Puffins are not endangered but they are threatened by human activities and are rare in many areas where they were once abundant. As a result, it is important to protect critical puffin breeding and feeding habitat. In some parts of their range there are just a few colonies. Where this occurs "all the eggs are in a few baskets" and these populations are vulnerable to catastrophes such as oil spills, avian diseases and introduction of predators. Restoration of former nesting colonies helps to reduce the risk to the regional population by establishing more nesting sites.

23. WHY DID PUFFINS NEARLY DISAPPEAR FROM MAINE?
Maine puffins were over-hunted by early settlers for food and feathers. The colonies were harvested for the maximum number of birds and eggs that could be taken without thought to whether the colony could support that level of hunting. By 1900 the puffins were gone from the Gulf of Maine except for 2 isolated colonies.

24. WHAT WAS DONE IN MAINE TO HELP BRING PUFFINS BACK?

In 1973, Stephen Kress began a program to help re-establish a puffin colony on Eastern Egg Rock off mid-coast Maine. This program was sponsored by the National Audubon Society and the Canadian Wildlife Service. The idea behind "Project Puffin" was to move puffin chicks from a large colony in Newfoundland and raise them on Eastern Egg Rock. This was done so the puffins would think Egg Rock was their home and eventually return there to raise their own chicks. From 1973 to 1981 a total of 954 downy chicks were transplanted into artificial burrows on Egg Rock. Numbered bands were used to tag the chicks so they could be identified if they returned. In 1977 decoy puffins were placed on the island to help attract returning birds. The first puffins returned that summer. In 1981, the first chick was reared on Egg Rock where puffins had been absent for over a century. A similar project was completed at Seal Island National Wildlife Refuge where 950 puffin chicks were transplanted between 1984 – 1989. Puffins recolonized Seal Island in 1992.

25. HOW WILL GLOBAL WARMING EFFECT PUFFINS?
Puffins only live in cold waters that are between or 32º to 68º Fahrenheit (0º to 20º Celsius). They are adapted for preying on fish that live in cold waters. Global warming may increase the temperature of earth by 5º Fahrenheit and raise the sea level 3 to 10 ft (1 to 3 meters) by year 2100. Rising sea levels could hurt puffins by flooding their breeding islands. If the earth's temperature increased it could affect puffins by limiting their range. Global warming could also affect the distribution of the fish the puffins eat and feed their young.

26. HOW DO PUFFINS HELP PEOPLE?
Puffins help people by acting as indicators of ocean health, especially over-fishing. Puffins indicate the abundance of fish by the numbers of fish they bring ashore for their chicks. If over-fishing depletes fish populations then puffins will bring home less fish. This is a warning that we are over-fishing the ocean. This is bad for puffins and humans, since we both rely on fish for food.
Puffins can serve as food for people. Locals of the Faroe Islands, Norway and Iceland have hunted puffins for centuries. The Lofoten people (Norway) use special puffin dogs to dig birds from burrows among narrow rocks. The Iceland and Faroe Island locals use a fleyg, which looks like a 4-meter long lacrosse pole, to catch puffins in flight. Hunters who do this require great skill and take pride in only taking puffins that are not bringing back food to their young. This reduces the take of breeders, if successful.
Puffins can also help tourism. Communities benefit from having a healthy puffin colony to share with tourists who contribute to the local economy when paying to see the birds, stay in hotels, and dine in restaurants. Responsible stewardship of puffin colonies also benefits other seabirds such as terns and storm-petrels, which nest compatibly on the same islands. Techniques developed to restore the puffin are also useful in managing endangered seabirds such as Roseate Terns.
More than 40 seabird species in at least 12 countries have benefitted from the seabird restoration techniques developed by Project Puffin.

Learn about birds and take action
Adopt-A-Puffin
Adopt now and receive: A Certificate of Adoption, A biography of "your" puffin, and The book How We Brought Puffins Back To Egg Rock by Stephen Kress.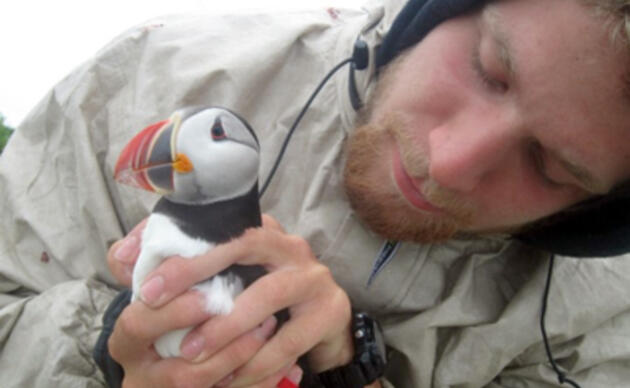 Visitor Center
The Project Puffin Visitor Center (PPVC) is located at 311 Main Street in downtown Rockland, Maine. The center opened its doors officially on July 1, 2006.