About
Our Staff
Meet our staff members
Dr. Donald E. Lyons
Director of Conservation Science
Dr. Don Lyons, Director of Conservation Science, joined Audubon in 2018 and now leads seabird research and stewardship efforts at our sanctuary network of seven seabird nesting islands in Maine as well as contributing to conservation and research projects elsewhere. He has worked on seabird ecology and conservation for over 20 years from the North Atlantic in Maine to the South Pacific in Indonesia, and provided leadership on projects of great conservation relevance such as colony restoration for the critically endangered Chinese Crested Tern in Asia, investigations of the steep decline of Aleutian Terns in Alaska, and reduction of conflicts between Caspian Terns and threatened salmon populations in the Pacific Northwest. His current efforts include expanding the use of seabird diet and reproductive performance to inform fisheries management, assessing the impacts of our warming climate on marine ecosystems, and the restoration of vulnerable tern and alcid populations. Don also serves as an instructor at the Hog Island Audubon Camp and Oregon State University where he holds an Assistant Professor (Research) appointment in the Department of Fisheries, Wildlife, and Conservation Sciences. He has taught courses on seabird ecology and conservation, physiology of marine megafauna, and natural resource management, and regularly advises graduate students.
Amy Simmons
Director, Individual Giving
Originally from Kentucky, Amy supports the Audubon Seabird Institute remotely from New York City much of the year. In the summer months, she is based in Bremen, just a stone's throw from Hog Island. She's passionate about birds and the environment. As a child, she and her family watched birds and spent a lot of time camping and enjoying nature. In the years since, she's noticed the reduction in the number and diversity of birds and insects and wondered how she could help -- given that her college degree is in history. After years of working in the corporate world, in 2019 she gave herself permission to "pivot" and do work that was truly meaningful to her, and that brought her to Audubon where she was able to put her business skills to work raising funds to help birds and the places they need. Amy lives with her partner in Manhattan and spends as much of her free time as possible birding – often in Central Park. She's thrilled that her work brings her to Maine for the summer and loves nothing more than birding with Audubon colleagues and supporters, especially on the islands managed by the Seabird Institute.
Kelly Bell
Senior Office Assistant
Kelly is a Maine native who has worked for arts and education nonprofits for over two decades, wearing a variety of hats. She comes from a long line of teachers and, after graduating from Smith College, taught dance and musical theatre in schools and community organizations across Southern Maine. As office manager for the Ocean Park Association, Kelly enjoyed supporting the educational and outreach mission of this historic Chautauqua community. At Bay Chamber Concerts and Music School, she juggled the roles of stage manager, resident techie, and office mom. No matter where she's lived and worked, Kelly has always been fortunate to be near the woods and water. When not desk-bound, Kelly can be found hiking the trails with her two Labradors.
Adrian Bregy
Facilities Assistant
Adrian has worked at Hog Island for the past four summers. In the winter Adrian works in the Audubon Decoy workshop on the mainland. As the facilities assistant Adrian is the man behind-the-scenes that keeps the camp running. He hauls recycling and trash across the Narrows, keeps our camp vans in clean condition and is a quintessential handy-man fixing our historic buildings and keeping everything in top notch order. Adrian lives in Bremen, Maine and enjoys hiking in his free time.
André Breton
Database Manager
André's research experiences and education integrate a lifetime of learning encompassing four continents (North, Central and South America; Europe; Antarctica), many terrestrial and freshwater communities including polar, temperate and tropical ecosystems, three ocean systems (Atlantic, Pacific, and Antarctic), and research projects dedicated to the conservation of birds, mammals, and fish. André began his adventures with Project Puffin in 1995 as an island intern. From 1996-97 and 1998-01 he was the island supervisor on EER and Seal Island, respectively. And since 2001, he's been providing consulting services in database design and data analysis to Project Puffin. Prior to working for Project Puffin, André was an intern at the Audubon Ecology Camp on Hog Island (1993-94). André attended Massachusetts College of Liberal Arts from 1990-94 (BA), the University of New Brunswick from 2000-05 (PhD), the University of Alaska Fairbanks from 2005-2008 (postdoctoral fellow), and Colorado State University from 2009-2015 (postdoctoral fellow). André founded Insight Database Design and Consulting, a database design and data analysis company, in 2008. He lives part of the year in Hamburg, Germany, and the remainder in Fort Collins, Colorado.
Lindsy Buckland
Office Coordinator
Lindsy comes to Audubon with a versatile background in process creation and supply chain management. After spending several years at the Chewonki Foundation and exploring the outdoor education experience, she is eager to channel this knowledge into the Seabird Restoration Program. Prior to this work experience, Lindsy lived in Hawaii for 8 years where she developed her love for the ocean and began her career in the Nonprofit world. After working for several of Imua Family Services' programs including Camp Imua, she is thrilled to apply those valuable skills to the Todd Wildlife Sanctuary and Hog Island, Bremen location. After growing a flock of her own, Lindsy takes pride in teaching her children about the evolving world we live in by instilling courage and kindness in her children. She looks forward to being a part of an effort that nurtures our community as well as our environment. Pronouns: She, Her, Hers
Kimberly Faux
Development and Communications Associate
Kimberly is a nonprofit administrator who has worked with organizations to streamline development operations, increase donor and community engagement, and provide logistical operations support. She has developed the firm belief that community engagement has a symbiotic relationship with philanthropy and everyone, regardless of their socioeconomic status, should have the opportunity to make their voices heard. She graduated from Elizabethtown College after studying Music and Business Administration. Since graduation, she has worked with numerous performing arts organizations and is thrilled to be spreading her wings with the National Audubon Society's Seabird Institute. A native of south-central Pennsylvania, she is a lover of the region's chocolate, the Philadelphia Eagles and trips to NYC for Broadway performances. In 2016, she relocated to Lincoln County, Maine where she now lives with her partner and their dog.
Katherine Luscher
Senior Coordinator, Tufted Puffins
Katherine is a lifelong "West-Coaster;" having lived in both California and Washington, she now calls Oregon home. From a young age, she took an interest in the outdoors: camping with her family, backpacking with her dad, and boating with friends. This passion for natural spaces and species is a thread that weaves through her professional career. With almost 3 decades of nonprofit experience, Katherine thrives in positions that allow her to work with, support, and elevate the voices of people participating in value-driven efforts to protect our natural environment. For 20 years, she worked at River Network, where she edited a quarterly journal for the river conservation movement; coordinated the River Rally, a national training conference for over 500 participants; oversaw a $1.2 million grant program supported by the U.S. EPA, and created the National River Heroes Award as a way to ensure we take time to celebrate our victories and the people who make them possible. In 2015, she joined the staff at Waterkeeper Alliance, where she conducted and facilitated numerous in-person and online trainings, created an online resource library, and helped facilitate the sharing of knowledge and best practices among clean water activists working across the globe. Katherine continuously seeks to leverage the limited resources available to nonprofits by seeking out new partnerships, and communicating and engaging with organizations and stakeholders that have like-minded missions. When not protecting our natural resources, Katherine makes sure to enjoy them – gardening, hiking, cycling, and whitewater rafting. Katherine earned a B.S. in Political Science/Environmental Studies from the University of Oregon and an M.A. in Environmental Policy from Western Washington University.
Susie Meadows
Manager, Project Puffin Visitor Center (PPVC)
Susie is the manager of the Project Puffin Visitor Center located in Rockland, Maine and by chance she met Steve Kress in the summer of 2006 and realized working at the Project Puffin Visitor Center would be a wonderful place where her birding and educational experience could collide. She attended Unity College in Unity Maine and graduated from Northland College in 1999 with a BS in Outdoor Education with an emphasis in Natural History. Between the years of 1996-1999 she worked in the ornithology field banding birds and nest searching and from 1999 to 2002 she worked at various environmental education centers teaching kids. In 2005 Susie received her teaching certification from Appalachian University and moved back up to Maine to start her teaching career. Susie lives in Union, ME with her husband and son, and enjoys being creative in her free time.
Terry P. Mingle
Assistant to the Director/
Seabird Institute Webmaster/Social Media Manager
Dr. Steve Kress recruited Terry for a part-time (remote work) position in 2006, after she had served as coordinator/event planner for his popular birding course Spring Field Ornithology at Cornell University in Ithaca, NY (where she has been employed full-time since 1988). In addition to her current Seabird Institute duties, in the past she has assisted with grants and contracts, and organizing annual Contributor Trips to the Seabird Islands in the summer months in Maine. Education-wise, she studied music (flute/voice) at Shenandoah University, but soon transferred to Mansfield University, where she completed a B.A. in Music Merchandising (Music/Business/Marketing). Outside interests (besides birds) include performing in various music groups in and around Central NY state, including the Cortland Old Timers (concert) Band, the CNY (Syracuse) Flute Choir, Cortland's Underground Flute Operative (UFO) Flute Choir, and Trio Presto. As pictured, Terry believes that the only puffins that should be eaten are "Seabird Sue" Schubel's extremely delicious Cream Puffins!
Susan Schubel
Outreach Instructor
"Seabird Sue" Schubel likes to wear many hats. Project Puffin's own Disney Hero, she has been the Outreach Educator for Project Puffin since 2000. Sharing real data from the Maine seabird islands, and personal experience from seabird colonies around the world, she hopes to encourage a new generation of conservation biologists. During our Maine field season, Sue, as Assistant Sanctuary Manager, provides logistical support to the island researchers on our seven seabird isalnds, and helps maintain the field camps there. She is the chief painter of decoys which fly from our Maine "Mad River Decoys by Audubon" shop to conservation projects around the world. Sue's desire to travel and work on far-flung islands has led her to pursue avian paleontology in the Cook and Pitcairn Islands, archaeology in Micronesia, seabird restoration in the Galapagos and California, and personal fun in Iceland and the Carribean. She has built sound systems to attact many species of seabirds to dozens of safe locations from Asia to Bermuda. Sue lives in a handbuilt house in the woods of Maine, where the dogs bark happily when the traveling daughter returns for a visit.
Paula Shannon
Seabird Sanctuary Manager
Paula Shannon is the Seabird Sanctuary Manager for the National Audubon Society's Seabird Restoration Program (SRP). She began working for SRP in 2002, as Island Supervisor on Matinicus Rock, Maine's most diverse seabird colony. She continued in this role for five years until 2006, participating in various projects involving alcids, terns, gulls, storm-petrels, and shearwaters. In 2011 she returned to SRP, supervising the research and management of all seven of SRP's field stations. She has also studied seabirds in Alaska and Hawaii, leading fieldwork on seabirds for the US Fish and Wildlife Service in Alaska's Pribilof and Semidi Islands from 2008-2010, and serving as a biologist in the French Frigate Shoals in the Northwest Hawaiian Islands. Paula also worked for the Bureau of Land Management in Oregon, with much of her work focused on Marbled Murrelets. In addition to her work with seabirds, Paula has worked on numerous avian research and conservation projects across the United States, including work with raptors, songbirds, and shorebirds. She holds a Bachelor's degree in Biology from Bowdoin College in Brunswick, Maine, which is where she first developed a love and appreciation for the Maine coast.
Eric Snyder
Facilities Manager - Todd Wildlife Sanctuary
In his over 15 years working at Audubon and Hog Island, Eric has had the pleasure of sharing his enthusiasm and knowledge of the Maine ecosystem with thousands of program participants. Since earning a BA in Geology, and minors in Biology and Geography from Vassar College, Eric has traveled extensively - including sailing his boat around the Bahamas to survey shorebirds; environmental audio collection throughout Southeast Asia; and geologic research across the pacific. Eric has worked on most of the Seabird Islands managed by Audubon's Seabird Restoration Program, and helps to maintain the live cams operating on Audubon islands. He helped build out decoy and conservation product manufacturing at Audubon, and continues to innovate new product development. On Hog Island, Eric manages the full time seasonal staff, operation of the facilities and infrastructure, and is resident boat captain and diver. He also instructs classes in geology, island ecology, astronomy, natural history and is Co-director of the Saving Seabirds session on Hog Island. When not working, Eric enjoys dancing tango, martial arts, traveling outdoors, and learning.
Dr. Stephen W. Kress
Founder and Former Executive Director
Steve Kress is our Founder, and was Executive Director of the Seabird Restoration Program and Vice President for Bird Conservation of the National Audubon Society for many years. He received his B. S. in Zoology and M.S. in Wildlife Management from Ohio State University, and his Ph.D. in Environmental Education from Cornell University. Steve began Project Puffin in 1973 and served as the Director from then until 2019, when he retired. Steve has also served as Manager of National Audubon's Maine Coastal Island Sanctuaries, Ornithology Instructor at the Audubon Camp in Maine on Hog Island from 1969 through 1981, and Director of the camp from 1982 through 1986 (as well as serving as Director once again just before his retirement). Prior to working for Audubon, he was Assistant Director of the Glen Helen Outdoor Education Center in Yellow Springs, OH, where he taught Field Ornithology and founded the Glen Helen Raptor Rehabilitation Center. Steve is currently a Visiting Fellow for the Cornell Lab of Ornithology in Ithaca, NY, where he taught a popular birding course called Spring Field Ornithology. Steve continues to teach his Spring Ornithology course, which is now available via the Cayuga Bird Club.
Learn about birds and take action
Adopt-A-Puffin
Adopt now and receive: A Certificate of Adoption, A biography of "your" puffin, and The book How We Brought Puffins Back To Egg Rock by Stephen Kress.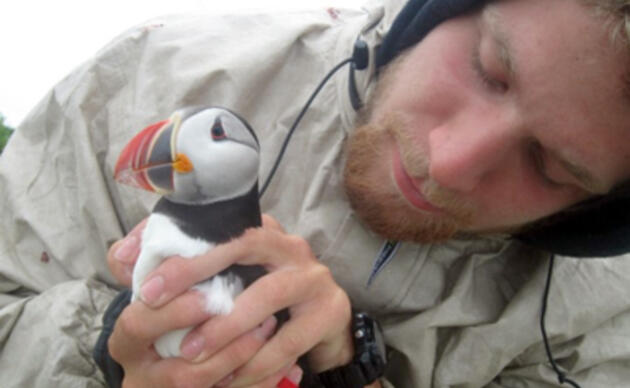 Visitor Center
The Project Puffin Visitor Center (PPVC) is located at 311 Main Street in downtown Rockland, Maine. The center opened its doors officially on July 1, 2006.