Get Involved
Field Opportunities
Each summer we hire island supervisors, research assistants and educators to work with us in Maine.
Summer work with Project Puffin involves living with a small group of people on relatively isolated seabird nesting research island field stations, which can be both fun and challenging! Below is some general information that applies to all field positions.
For detailed descriptions of our education positions, click on the titles below.
For detailed descriptions of our research positions, click on the titles below.
Also, be sure to check out these items:
Instagram interview from February 2021, where Audubon's Christine Lin (social media team) interviews Kay Garlick-Ott (island supervisor, EER) for an informative question/answer session about island internships: https://instagram.com/tv/CLfPVvanWNe/
Field Conditions
At each island, a small group (managed on-site by an "Island Supervisor" and staffed by Research Assistants) operates a rustic camp where you live and conduct research. Terrain is very rugged on Eastern Egg Rock, Matinicus Rock and Seal Island National Wildlife Refuge. Persons with weak knees or ankles may not be able to manage hiking over the large granite boulders to get to an observation blind. Boat landings at all sites require stepping onto slippery rocks, seaweed or in the water. Field equipment, food and drinking water are delivered to the island by boat and, once landed, must be carried to the field camp site, usually over irregular terrain.
Exercise area is limited. There is virtually no place to run or jog on the seabird islands that is safe for you or the nesting birds. The islands are nesting habitat first and foremost—not summer camps!
With few exceptions, opportunites for personal private time is limited. Participants must be able to coexist and work with people with different personalities and lifestyles. A sense of humor, love of adventure, the outdoors and birds are essential to enjoying your experience while you live and work for two weeks or longer in primitive conditions.
Allergies to ragweed or other grass species can be debilitating. Non-native grasses cover a large portion of the islands and all the research camps are set up in these areas. If you have allergies, it is essential that you bring enough medication to last for your scheduled time. Relatively minor allergic reactions to grasses may become exaggerated on the islands as you are camping and working in grassy areas most of the day. Discuss this with your physician and come prepared with medication to address that possibility. Sample any new medication to determine adverse reactions before you go out to the islands.
Three-hour-long observation stints require sitting in a 3'x3' wooden blind on a rough seat. Daily schedules usually include at least two of these three-hour stints per day. Observation blinds are located within and surrounding the nesting colonies. The path to reach a blind may require hiking over irregular terrain, large boulders or through tall vegetation while wearing a backpack and carrying other field equipment, such as a spotting scope and tripod.
Be prepared to practice your water conservation skills. All potable water must be carried onto the islands. Rainwater (when available) can be used for bathing. Laundry can be washed at the base camp after you return from the island, or by hand on the island, if rainwater supplies permit.
Communication with the mainland is limited. Contact between the islands and the Audubon base camp is made at least once a day via cell phone. Mail will be delivered to the islands during weekly or biweekly staff changes or supply drops.
Gull control is a necessary part of the restoration of Maine's seabird colonies. In managed areas, Herring (HERG) and Great Black-backed Gull (GBBG) nests or eggs are destroyed. Individual HERG or GBBG determined to be problem predators may be shot (as deemed necessary by the Island Supervisor.) Predator control is done under permit from state and federal agencies. You will not be asked to participate in gull control if you find it unsettling; however, it is important not to interfere with the process.
Travel to and from the base in Bremen, Maine and your home location is the responsibility of each individual and is not funded by the National Audubon Society. Food is provided by Audubon while at the research site and mainland facilities. Housing is available in various forms ranging from tent space to a bedroom in a historic lighthouse depending upon the sanctuary to which you are assigned.
Equipment to bring
Binoculars, sleeping bag, ground pad and tent. Note: A suitable tent is one that is waterproof and designed to resist damage from high winds. Low-end model tents are constructed from stiff plastics or vinyl that "crackle" in high winds making it difficult to sleep inside. A rain fly is a must. Strong UV rays will cause some deterioration of the fly fabric, especially if you stay longer than two or three weeks. We recommend a plastic tarp sized to fit over your tent fly to protect it from UV rays and the uric acid in bird droppings. A two-person tent provides ample room for sleeping and storage of your clothes and some gear. A larger size is not recommended since it may be difficult to find a level spot to site it and it weighs more. On-site wood platforms are sized for two-person tents.
Learn about birds and take action
Adopt-A-Puffin
Adopt now and receive: A Certificate of Adoption, A biography of "your" puffin, and The book How We Brought Puffins Back To Egg Rock by Stephen Kress.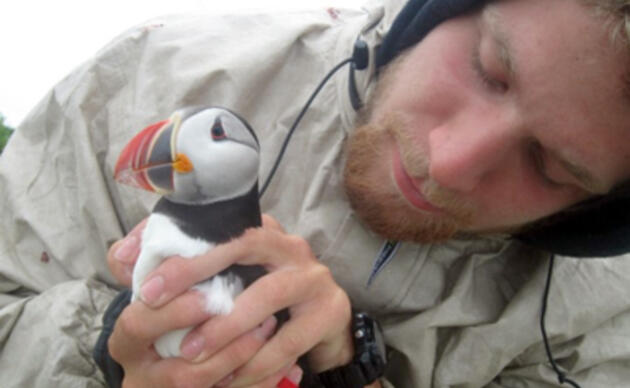 Visitor Center
The Project Puffin Visitor Center (PPVC) is located at 311 Main Street in downtown Rockland, Maine. The center opened its doors officially on July 1, 2006.