Get Involved
Island Supervisor
Each Audubon field station on the Maine coast has an Island Supervisor who is responsible for daily operation of the station and associated wildlife sanctuary.
Description: Each Audubon research island field station on the Maine coast has an Island Supervisor who is responsible for daily operation of the station and associated wildlife sanctuary. Supervisors live on island for the entire field season and supervise a crew of one to five research assistants (size of the crew varies based on assigned island and time of year). A cabin or wall tent serves as the base of field operations, and staff sleep in their own tents. All staff participate in seabird research and camp maintenance duties.
Responsibilities: Managing multiple concurrent seabird studies, drafting a daily work schedule based on approved work plans, training staff on essential field and computer skills, overseeing and participating in data collection and management, conducting visitor education, protecting the site from human disturbance, conducting predator management, maintaining the safety of all staff on the island, maintaining buildings and equipment, coordinating logistics with mainland staff, and completing an end of season report summarizing the results of the field season. Seabird studies include: banding and resighting seabirds, monitoring productivity and growth, conducting population counts, and conducting feeding studies. Species monitored and additional projects may vary by site.
Season: Variable, depending on assigned island. Positions generally begin between May 1 and 25 and end by mid-August.
Qualifications: B.S. degree in biology, conservation biology, wildlife management, or a related field with several years of experience in similar field research programs. Pursuit of graduate studies is encouraged. Career goals should include work in the field of conservation biology. Island Supervisors must be in excellent physical condition (capable of climbing over rugged terrain and able to lift approximately 50 lbs.), have wilderness camping experience, be able to work independently and as part of a team, be capable of working long hours outdoors in variable weather conditions, and be able to work well with people of diverse backgrounds. Bird banding experience is required for all positions, and experience operating small motorboats is required for some positions. Hunting and trapping experience (for predator management) and previous experience coordinating and training field crews are highly desirable. A sense of humor, dedication to wildlife conservation, and passion for seabirds and isolated islands are basic requirements. Must provide own binoculars, tent, sleeping pad, and sleeping bag.
Compensation: Biweekly stipend, plus room, board, worker's compensation insurance coverage, and transportation from the mainland base to and from the research sites.
Available positions: Seven.
To apply: Visit the Audubon Career Center Web Site and click on the Current Opportunities link.
Click here for a video that highlighting Interns and Researchers on a Maine Seabird Island.
Learn about birds and take action
Adopt-A-Puffin
Adopt now and receive: A Certificate of Adoption, A biography of "your" puffin, and The book How We Brought Puffins Back To Egg Rock by Stephen Kress.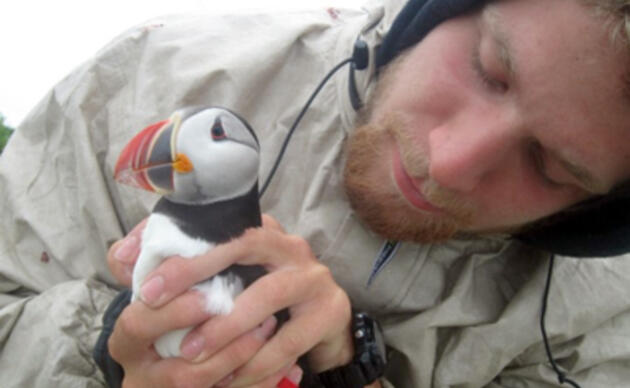 Visitor Center
The Project Puffin Visitor Center (PPVC) is located at 311 Main Street in downtown Rockland, Maine. The center opened its doors officially on July 1, 2006.