Programs
Island Research Program
Our island conservation and research program is an integrated monitoring, management and research effort. 
The Seabird Institute takes an applied science approach to research with data and study results providing feedback to improve management and monitoring. While each island's program is unique to the suite of birds nesting on the island and the available habitats, we emphasize a standardized approach to facilitate comparison of data across islands and years. The result is consistent, long-term data sets which allow us to better understand patterns and variations in a dynamic environment.
Seabird Island Conservation Overview
Resident Field Camps: A key tenet of our program is the establishment of field camps on seabird nesting islands. The presence of resident staff serves the twofold purpose of providing site protection while training staff on waterbird conservation techniques.
Predator Management: Our research staff conduct an active predator management designed to reduce both the direct and indirect threats of a suite of mainland-based predators.
Habitat Management: To improve habitat quality for ground nesting birds and reduce the spread of invasive and exotic plants on the islands, research staff have experimented with numerous techniques to manage seabird island habitat.
Monitoring and Research Overview
Population Counts: Conducting both annual and periodic counts of nesting seabirds provide scientists with a snapshot of population level changes for designated species.
Productivity and Chick Growth Studies: How many and how well do they do, are two of the basic questions asked or addressed by policy and bird conservation planning efforts. This work is a hands-on activity, focusing on study groups and involves the capture, banding, weighing, and measurement of chicks throughout the season.
Survival and Movement: Perched on buckets and squeezed into 3x3x5' blinds, researchers sit patiently, armed with spotting scopes, snacks, and datasheets reading band numbers of the birds attending each island colony. These data are incorporated into studies of movement, survival, and nest and mate fidelity for several species.
Diet and Provisioning Studies: The data generated from our provisioning studies has provided valuable insight into the keystone prey species for Maine seabirds and has contributed to policy decisions for Gulf of Maine fisheries.
Read some TIPS from the National Audubon Society Seabird Island Researchers.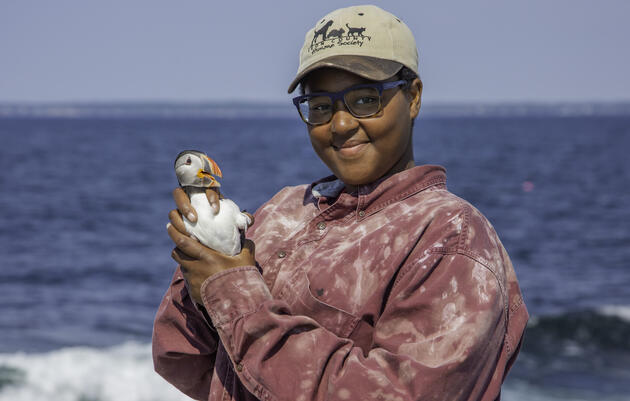 Get Involved
Each summer we hire island supervisors, research assistants and educators to work with us in Maine.
Learn about birds and take action
Adopt-A-Puffin
Adopt now and receive: A Certificate of Adoption, A biography of "your" puffin, and The book How We Brought Puffins Back To Egg Rock by Stephen Kress.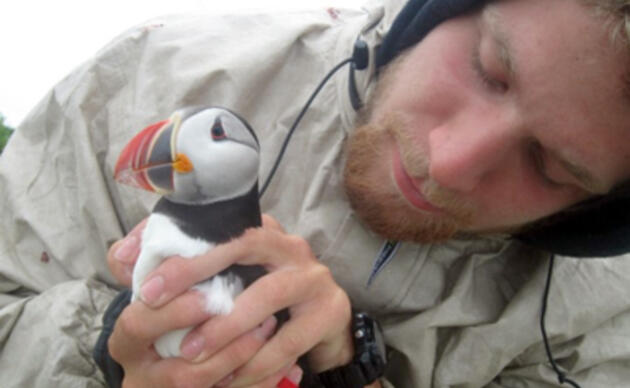 Visitor Center
The Project Puffin Visitor Center (PPVC) is located at 311 Main Street in downtown Rockland, Maine. The center opened its doors officially on July 1, 2006.