Get Involved
Outreach and Education Assistant
Outreach and Education Assistants can spend 10-14 days on a seabird island and may also work as naturalists at the visitor center and on boat tours. 
Description: The first two weeks or so of this position will be spent at a seabird nesting island where the staff member will participate in the research as described in the position description. This time will serve as hands-on orientation to National Audubon Society's Seabird Institute. Upon return to mainland base, there will be a training period for the visitor center and boat tour naturalist duties. National Audubon Society cooperates with two different private boat tour operators who offer seabird and puffin-viewing tours to the general public. As naturalist, the education assistant will identify seabirds and marine mammals seen on the tour boats and videos at the Project Puffin Visitor Center, and provide information on seabird natural history, seabird restoration, ecology of the Gulf of Maine, and human history of the area as it relates to seabirds on the islands. Post-training, the season will be spent leading seabird-watching tours and greeting the public at the Project Puffin Visitor Center in Rockland, Maine.
When not narrating, duties may include preparation of teaching materials and assisting with logistical support for the research islands.
Season: Three positions are available. The 1st Assistant position season runs Mid-May through October 31st. The 2nd and 3rd Assistant position seasons run from Mid-May through August 31st.
Qualifications: Individual must be seaworthy! Possessing a B.S. or B.A. in conservation education, interpretation, or biology is helpful. Alternatively, an upper level undergraduate with related experience, or someone enrolled in a related field of study would be considered. Career goals should include a position in conservation education or interpretation. Applicants must have a valid driver's license and a reliable vehicle is highly desirable. A pair of binoculars is required equipment.
Compensation: $13/hr. at 35 hrs/wk., plus room and board and worker's compensation insurance coverage. During the initial two-week island experience, a personal tent is required. A private room with shared kitchen and bath at the Project mainland base in Bremen, ME is provided for the remainder of the time. Mileage will be paid for business use of a personal vehicle if required.
Available positions: Three.
To apply: Visit the Audubon Career Center Web Site and click on the Current Opportunities link.
Learn about birds and take action
Adopt-A-Puffin
Adopt now and receive: A Certificate of Adoption, A biography of "your" puffin, and The book How We Brought Puffins Back To Egg Rock by Stephen Kress.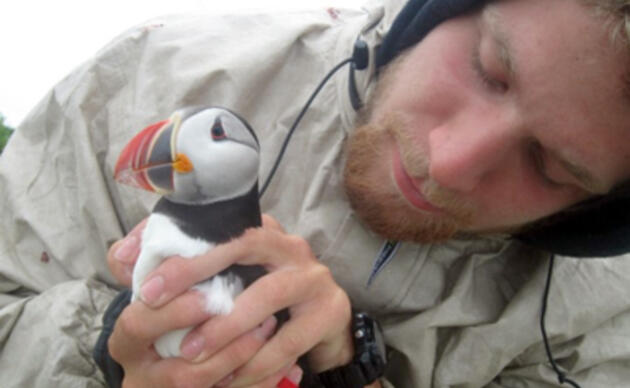 Visitor Center
The Project Puffin Visitor Center (PPVC) is located at 311 Main Street in downtown Rockland, Maine. The center opened its doors officially on July 1, 2006.