Get Involved
Intern Testimonials
What Project Puffin interns are saying
Each summer Project Puffin provides seabird internships on Maine islands to college age students. The testimonials of Alex Guyton, Austin Patton, and Marisa Browning-Kamins give insight to the value of the experience.

Intern Alex Guyton:
"Project Puffin, a seabird restoration program, was started to bring the Atlantic puffins back to the coast of Maine. In addition to puffins, Project Puffin works with common, arctic, and roseate terns. My job was to monitor and manage the seabird populations, collect data, and help with island maintenance.
Several days a week I would wake before the sun rose and head into a blind. As the sun would start to rise, the puffins would wake and begin fishing for their young. We watched and recorded what they were eating, fish size, and how often they were feeding. The rest of the day was spent enter data, weighing, measuring, and banding the birds.
The first time I banded a bird was nerve-wracking. The tern chick was half the size of my palm, and I was afraid that I would break its leg with the pliers used to close the band. I could not get the band closed and needed assistance. Eventually, I learned the birds were not as fragile as I initially thought and I just needed to squeeze the pliers harder. Having the opportunity to handle these tiny yet strong creatures was truly amazing.
At the start of the summer, I was embarrassed by how little I knew about birds and the fact that I could barely tell the difference between the terns. One of my proudest moments was toward the end of the season when another intern asked me to identify some shorebirds. I felt confident and was excited that another intern saw me as knowledgeable and capable to identify birds that she could not.
This summer I fell in love with fieldwork. Before Project Puffin I knew little about fieldwork and the opportunities available. I believe that experiential learning is the best kind of learning. I don't know what my future will look like, but I know that somewhere along the way I will work with birds again."
Intern Austin Patton:
"In summer 2012 I interned with the National Audubon Society to work with Project Puffin. The intention of the project was to re-establish nesting colonies for Atlantic Puffins. The project now supervises nesting seabird colonies on seven islands within the Gulf of Maine; I traveled to four of these islands.
Stratton Island hosts an active heronry as well as tern colonies. I conducted a small research project investigating the use of woven plastic fiber landscaping carpets, which had been placed to reclaim nesting habitat. We were interested in seeing whether terns were using thses carpets. I mapped all nests laid on the carpets and those within two feet of them. It was while conductin this work that I fell in love with terns. While in the colony, terns would make every attempt to discourage me from nearing their nest by dive-bombing and oecking the highest part of my body repeatedly and sometimes dousing me with guano. Though many might find this unpleasant, I found it extremely endearing. Their nests meant so much that they had no inhibitions and would throw themselves into harm's way to protect their nest and their young.
My final destination, Seal Island National Wildlife Refuge, was a true puffin colony. While there, I conducted puffin-feeding stints using my digital camera. Without the aid of digital photography, it is nearly impossible to identify all the fish brought in during a puffin feeding. To complement the feeding stints, we also "grubbed" puffin chicks for banding and measurement. Grubbing refers to the practice of extracting chicks from their burrows, often by placing yourself headfirst between two or more jagged boulders. It took days of complete frustration and lack of success before I pulled my first chick out of a burrow. When I did, it was suddenly all worth it. The satisfaction of pulling out an adorable little puffin chick is simply beyond comparison."
Intern Marisa Browning-Kamins:
Common terns flying over head, Marisa Browning-Kamins ('16) rowed a dinghy with two other passengers across a small harbor toward a pebbly beach.
Once the boat had reached the island, they were greeted by Nico Kaminow, a young man with a deep tan and bushy black beard and hair. Sitting under a big umbrella, the novel Les Miserables open on his lap, Kaminow was on beach duty, responsible for steering unwary boaters away from Stratton Island's fragile seabird nests and protected seal cove.
Stratton Island, a National Audubon bird sanctuary located off the coast of Old Orchard Beach, is part of Project Puffin, a longterm bird restoration effort in Maine. This season, Browning-Kamins was part of a four-person staff living on the island for the entire summer to protect and monitor its bird colonies.
Browning-Kamins is the third recipient of a Bowdoin fellowship that funds summertime field work with Project Puffin. Last year Lila Wright '16 and Claire Schollaert '16 were the first two Bowdoin students to receive the grant.
Project Puffin was founded in 1973 on Eastern Egg Rock to rebuild Maine's puffin colonies, which had been nearly wiped out by hunters. Over the years, the project has grown to encompass six more Maine islands, each the site for thousands of nesting puffins, terns, razorbills, storm-petrels and other birds.
So far, all of the Bowdoin fellows have been placed on Stratton Island, one of the more accessible of the seven Project Puffin islands. It lies close to Prouts Neck, Scarborough, in Saco Bay, a 20-minute boat ride. The island is a preferred spot for nesting roseate, least, Arctic and common terns. Many other bird species arrive on the island's shores or around its freshwater pond, including glossy ibises, little blue herons, great and snowy egrets, American oystercatchers, northern shovelers, common eiders, and black crowned night herons.
Last spring, before moving to the island, Browning-Kamins had some trepidations about her new job. To live for 10 weeks on a small island with no electricity, running water or enclosed structures other than tents take a certain amount of fortitude.
"It sounded daunting," she recalled. "I thought it was going to be rocky, cold and isolated." Instead, she found a sunny island with no mosquitos, several beaches and a network of narrow paths canopied by sumac trees and edged with elderberry bushes, chokecherry trees and jewelweed. "There's a big contrast between how difficult it seems on paper and how delightful it really is," she added. To read more about Marisa's experience, and to see photos, please click here.
Learn about birds and take action
Adopt-A-Puffin
Adopt now and receive: A Certificate of Adoption, A biography of "your" puffin, and The book How We Brought Puffins Back To Egg Rock by Stephen Kress.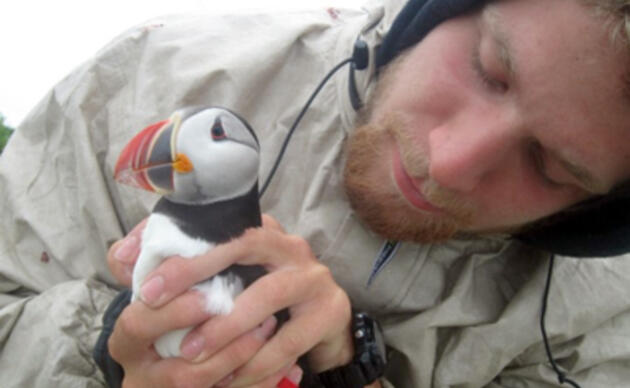 Visitor Center
The Project Puffin Visitor Center (PPVC) is located at 311 Main Street in downtown Rockland, Maine. The center opened its doors officially on July 1, 2006.