About
Project Puffin Story and The Puffin Plan
NEW IN 2020 - Scroll down for information on a BRAND NEW book called "The Puffin Plan – Restoring Seabirds to Egg Rock and Beyond"
PROJECT PUFFIN STORY - About the Book:
Project Puffin: The Improbable Quest to Bring a Beloved Seabird Back to Egg Rock (Yale U. Press, 2015) presents an inspiring story of how Dr. Stephen W. Kress ("The Puffin Man") re-established a population of puffins off the coast of Maine. Nature photographer Derrick Z. Jackson provides assistance in telling the tale.
As a young ornithology instructor at the Hog Island Audubon Camp, Steve Kress learned that puffins had nested on nearby islands until extirpated by hunters in the late 1800s. To right this environmental wrong, he resolved to bring puffins back to one island - Eastern Egg Rock. Bringing the plan to reality meant convincing skeptics, finding resources, and inventing restoration methods at a time when many believed in "letting nature take its course."
Today, more than four decades later, The National Audubon Society's Project Puffin has restored more than 1,000 puffin pairs to three Maine islands. But even more exciting, techniques developed during the project have helped to restore rare and endangered seabirds worldwide. Further, reestablished puffins now serve as a window into the effects of global warming. The success of Dr. Kress's project offers hope that people can restore lost wildlife populations and the habitats that support them. The need for such inspiration has never been greater.
About the Authors:
Stephen W. Kress is the National Audubon Society's Vice President for Bird Conservation and director of the Audubon Seabird Restoration Program and Hog Island Audubon Camp. He is an associate of the Cornell Laboratory of Ornithology in Ithaca NY, where he developed and teaches a popular course in field ornithology. His work in seabird conservation and habitat restoration is world renowned for the innovative methods developed in Maine. He lives in Ithaca, NY.
Derrick Z. Jackson is an award-winning op-ed columnist for the Boston Globe and was a finalist for a Pulitzer Prize in commentary. He is an associate editor at the paper as well as being an editorial board member. He is also well known for his nature and documentary photography; his images of Barak Obama have been exhibited by the Boston Museum of African American History. He lives in Cambridge, MA.
Book Reviews:
American Birding Association (November 2015): "Knowledge has been gained, effective techniques have been pioneered, and many other birds have been helped by Project Puffin. The project has drawn considerable media attention over the years, and innumerable people have learned about the importance of conservation and, most importantly, inspired to do their part. If it is now up to us to "play God" in preserving biodiversity, Kress has done more than his share in helping fill the ranks of those who will shoulder the task."
The Condor (October 2015): "Kress and Jackson present a ripping yarn that, ultimately, is just the first installment in the slowly ripening story of Project Puffin and the people who dedicate their lives to the cause of seabird conservation. Even knowing some of the individuals involved, and having heard some of the stories before, I found it extremely enlightening to go back and live this project with them. This is a fine read, and I highly recommend getting up close and personal with the islands that these seabirds choose to call home, and, while you're at it, delving into the improbable."
Portland Press Herald
(July 2015):
"Project Puffin makes a strong case for going beyond laissez-fair conservation that leaves recovery to nature. But "playing God" inevitably leads to increasingly tricky questions. Eliminate black-backed and herring gulls to gain a puffin colony? No problem. But then laughing gulls (a species of special concern in Maine) return with the puffins and need to be controlled. Increased numbers of bald eagles and peregrine falcons also pose threats. Kress doesn't suggest culling them, but one wonders where and how the line is drawn. "Project Puffin" is a serious book that raises immensely important questions."
NEW IN 2020 - Tumblehome Launches New Book!THE PUFFIN PLAN - About the Book:
The Puffin Plan – Restoring Seabirds to Egg Rock and Beyond (Tumblehome, 2020), geared for readers 12 and up, is an award-winning book (IBPA Benjamin Franklin Award winner in the "Teen: Nonfiction [13-18 Years]" category in 2021) that tells the true story of young ornithologist Steve Kress, whose love for puffins inspired a 50-year quest to bring them back to Maine's islands. This once-abundant species was decimated by humans until only two puffins were left in the entire state in 1902. Dr. Kress and his team painstakingly restored their populations; today there are more than 1,300 puffin pairs nesting in Maine. Project Puffin has become one of the biggest conservation victories of our time because the innovative lessons learned about restoring bird colonies are helping not only puffins, but seabirds worldwide.
Today, Project Puffin continues to train island stewards to protect the restored puffin colonies so that these endearing birds can continue to thrive. This work is now more important than ever because seabirds serve as sentinels of both ocean health and climate change. Book sales will help fund Project Puffin's ongoing field programs and offer internships for future generations of early career biologists.
About the Authors:
Stephen W. Kress is a world-renowned ornithologist and the founder of Project Puffin. He is former Vice President of Bird Conservation for the National Audubon Society and a Cornell Laboratory of Ornithology Visiting Fellow. Derrick Z. Jackson has documented the success of Project Puffin with up-close and personal puffin photos and articles. He is a Pulitzer Prize finalist, and winner of numerous other awards for both his writing and photography.
Learn about birds and take action
Adopt-A-Puffin
Adopt now and receive: A Certificate of Adoption, A biography of "your" puffin, and The book How We Brought Puffins Back To Egg Rock by Stephen Kress.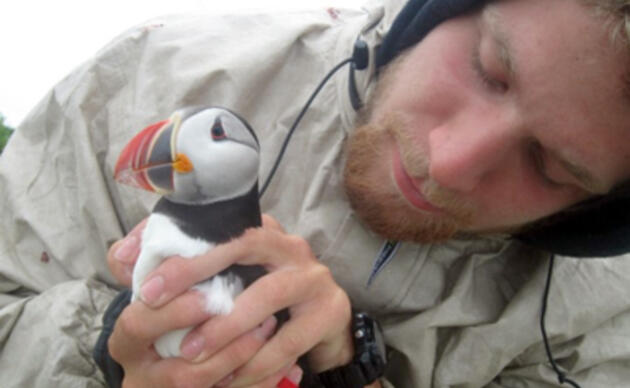 Visitor Center
The Project Puffin Visitor Center (PPVC) is located at 311 Main Street in downtown Rockland, Maine. The center opened its doors officially on July 1, 2006.