Conservation
2015 Josephine Daneman Herz International Seabird Fellows
In 2015 there were five Seabird Fellows
Esmerelda Bravo was born in Acapulco, Mexico. She studied biology at Universidad Autonoma Metropolitana-Xochimilco and received a Master's Degree in Marine Science and Limnology. Since 2014, she has worked as a biologist for Seabird Restoration Program on Mexican Pacific Islands, which is carried out by Grupo de Ecologia y Conservacion de Islas A.C. (GECI). Her work as part of this project involves seabird monitoring, setting up social attraction systems, and habitat restoration.
Alfonso Hernández-Ríos is a mexican biologist with graduate studies at the Universidad Nacional Autónoma de México (UNAM). Currently he works in Grupo de Ecología y Conservación de Islas A. C. (GECI), an NGO based at Baja California, México. Within the group he works on the Seabird Restoration Project, which aims to bring back several seabird populations to islands where they used to breed years ago, before introduced predators and sea pollutants decimated them. He enjoys field biology and has interests if island restoration, applied ecology, conservation and biogeography.
Jorge Valenzuela is Director of the Chiloé non-profit group, Center for Research and Conservation of the Natural Heritage, CECPAN, which he founded in 2006. CECPAN's conservation vision is to protect the region's native species and their ecosystems, and to improve the balance between industrial and rural land-use practices on Chiloe Island. Jorge was born on Chiloé and returned to live there after having studied biology in the Universidad Austral, majoring in Field Ornithology and Conservation Biology. He has 15 years experience studying birds in southern Chile and working with Chilean and international researchers, as well as professional birders on avian populations, their habitat selection and conservation problems.
Lu Yiwei is from Zhejiang Province, China. He studied Ecology in East China Normal University in Shanghai, where he received a Master of Science degree in Avian Ecology in 2007. His thesis research was on the influence of urbanization on avian community and avian adaptation in Shanghai, China. He is now assistant curator of the Zhejiang Museum of Natural History. He has participated several projects on seabirds since 2008, which include survey of diversity and distribution of breeding seabirds along the Zhejiang coast, monitoring of breeding seabird dynamics in Wuzhishan Archipelago of Zhoushan and Jiushan Archipelago of Ningbo, studies of breeding ecology of Greater crested tern (Sterna bergiii) and Chinese crested tern (Thalasseus bernsteini), etc.
Fan Zhongyong is from Hangzhou, Zhejiang Province, China. He received a Bachelor of Science degree in Biology from Zhejiang University in 1995. He is Curator of Ornithology at Zhejiang Museum of Natural History, where his studies concern seabirds. Since 2003, he has worked with Dr Shuihua Chen on population monitoring & breeding ecology of seabird along East China coast. He participated in the rediscovery of the critically endangered Chinese Crested Tern (Thalasseus bernsteini), and has participated in survey, monitoring, environmental education, & restoration.
Learn about birds and take action
Adopt-A-Puffin
Adopt now and receive: A Certificate of Adoption, A biography of "your" puffin, and The book How We Brought Puffins Back To Egg Rock by Stephen Kress.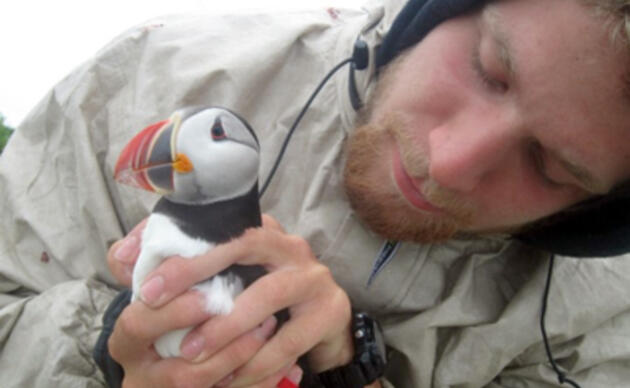 Visitor Center
The Project Puffin Visitor Center (PPVC) is located at 311 Main Street in downtown Rockland, Maine. The center opened its doors officially on July 1, 2006.