Get Involved
Keep Safe with Seabird Sue
Make a mask that will look fashionable AND keep germs at bay!
SEABIRD SUE IS SAFE AT HOME, FEELING RESTLESS, AND WANTS TO SHARE HER PUFFIN MASK WITH YOU!
| | |
| --- | --- |
| | 1. Download the pattern and cut out pieces of fabric (2 of each color). In this model I used fleece, which I had in my basement, but to make a better mask for covid-19 protection you may want to replace the white pieces with a tightly woven cotton fabric. The beak goes over the white mask, and is easiest to make from a non-fraying fabric such as felt or fleece. But use what you have – adapt and be creative! |
IMPORTANT NOTE: This pattern should fit to the edges of an 8 ½ X 11 inch paper.
2. Layer smallest blue or dark gray piece onto the yellow, and sew together, then add to orange piece and sew thru all three layers so that you end up with two finished beak pieces.

3. Put these right sides of beak pieces together and sew around the two rounded sides (for the orange beak section), then turn right-side out.

4. Sew beak side of white fabric together. (If using a woven fabric you may want to first finish the other edges to prevent fraying.)

5. Beak will slide over the white face section and can be sewn on by hand or machine. Add orange rosettes by hand or machine, at this point or after last step.

6. Give a "cheek" to face with 3 pleats – sew across to hold these. You can then fold this over and stitch a pocket to enclose an elastic band, ribbon, or string, to tie around your head. Or sew the straps directly to the corners.

7. Grrrrrrrrr!
Learn about birds and take action
Adopt-A-Puffin
Adopt now and receive: A Certificate of Adoption, A biography of "your" puffin, and The book How We Brought Puffins Back To Egg Rock by Stephen Kress.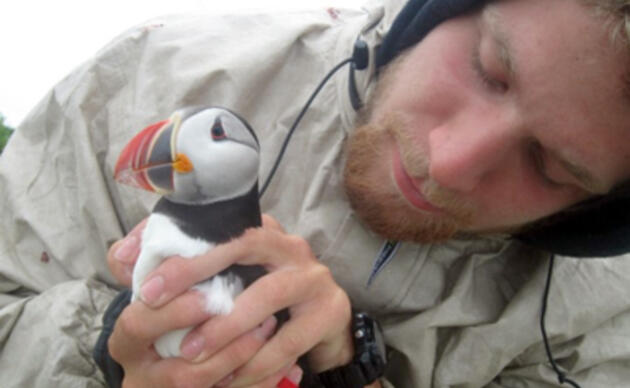 Visitor Center
The Project Puffin Visitor Center (PPVC) is located at 311 Main Street in downtown Rockland, Maine. The center opened its doors officially on July 1, 2006.