News
Celebrating 20 years of Seabird Success at Devil's Slide Rock
…and remembering Harry Carter (an account by Steve Kress)
April 30, 2017—I returned to Devil's Slide Rock this morning, a tiny rock with a huge significance to seabird conservation. The occasion was the culmination of a weekend celebrating an extraordinary 22-year project to bring Common Murres back to this speck of rock just a few miles south of San Francisco.
I first heard of Devil's Slide Rock in late May of 1994. I was in Maine preparing to begin the 21st year of Project Puffin when I received a call from Harry Carter, a passionate seabird biologist, then living in the San Francisco Bay region. Harry had seen an issue of Egg Rock Update and had heard of our use of decoys—one of the tools used to bring the puffins back to Egg Rock. He explained how murres once nested on Devil's Slide Rock, but a gill-net fishery and spill of crude oil from the Apex Houston barge in 1986 had led to the loss of the Devil's Slide Rock murre colony. Once thriving with 3,000 murres, these 14" tall black and white puffin cousins had abandoned the island following the spill. He asked if I thought decoys could help bring them back.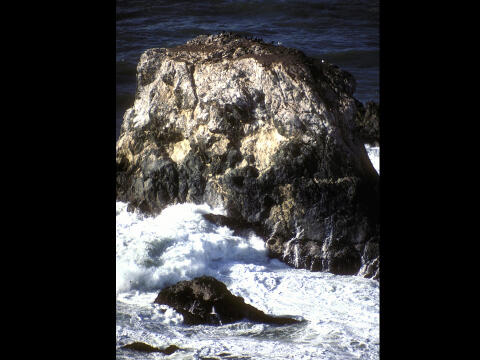 Six months later, on November 16th, I was standing with Harry on the shoulder of Route 1, looking down at Devil's Slide Rock. Harry had invited refuge biologists Jean Takekawa and Mike Parker from the San Francisco Bay National Wildlife Refuge Complex to hear my thoughts on restoration possibilities. But I was distracted by the scene in front of us. I was accustomed to rough seas on the Maine coast (in fact I pass three treacherous, mostly submerged ledges also named for Devils on my way to Egg Rock) but THIS was several magnitudes of fury greater than anything I had ever seen in Maine! I recall watching this tempest of surf for a while, expecting an eventual lull in the enormous waves as I was accustomed to seeing in Maine. But here the waves seemed only to increase. Eventually, I asked Harry if this was a normal day- but he didn't see anything out of the norm. Yet it gave me pause. I confessed to concern about how we would get decoys, sound systems and such atop this steep-walled outcrop. But Harry persisted—"if we could get the gear in place- would it work? Would murres then reclaim Devil's Slide Rock?"
What I didn't know was that Harry was not only an accomplished biologist with an international zest for alcids, but also one of California's most intrepid Zodiac drivers. And modest Mike was a skilled mountain climber, always looking for a new challenge. They were willing to put their talent (and lives) to the test for murres if I thought decoys and audio recordings (social attraction) would work. I realize now that we were all risk takers and optimists in our own ways. A team and an idea was beginning to take shape.
Fast forward to January of 1996. A court settlement had resulted in 6.4 million dollars to help the murres return to Devil's Slide Rock and social attraction was the prescription for success to replace the lost colony. Harry and Mike were itching to move forward and to assemble a team to kick off the project. Rick Golightly, a seasoned seabird professor from Humboldt State University, joined our team as did Sue Schubel from Project Puffin. Later, Jennifer Boyce, Christine Hamilton and other talent from Project Puffin signed on to move the project forward.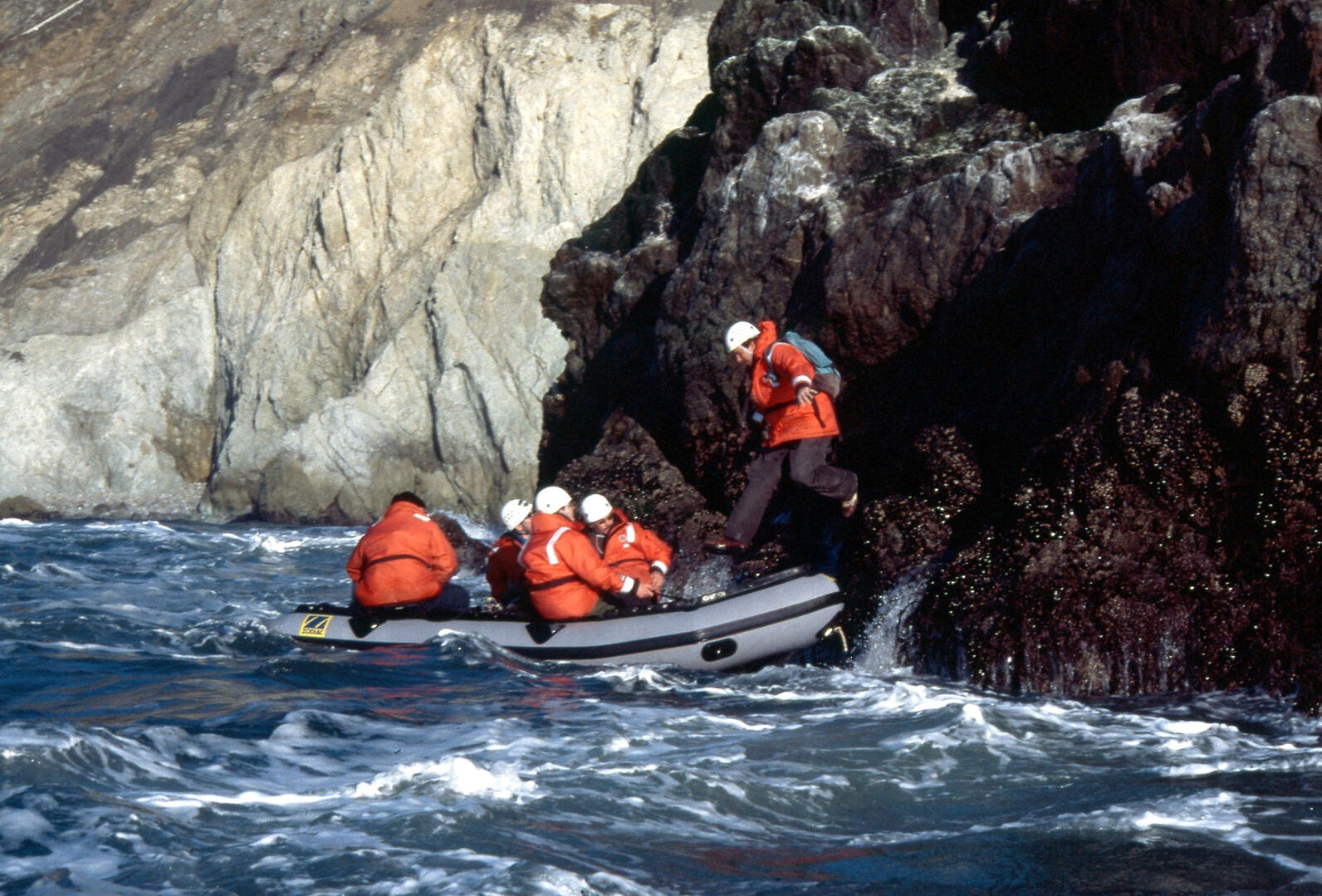 Against a background of skepticism and naysaying from some California ornithologists, Mike Parker, then with the San Francisco Bay NWR, was named Project lead. I was given a quick lesson in ropes and rappelling from Mike and joined the team that put up 400 decoys, mirror boxes and sound systems in January of 1996. With the tools of social attraction in place, I returned to Ithaca, but Sue stayed on to assist the project. Because this was the first use of social attraction on the Pacific coast, the stakes were high for success—a reality that was regularly reinforced by the trustee council that dispersed the project funds. Because there were so many uncertainties and high expectations, I downplayed the idea of quick responses from the birds. After all, it had taken four years before I saw the first puffin return to Egg Rock and eight years before the first pair nested. So we were shocked by news that a murre was seen exploring among the decoys the day after deployment and we were even more astounded when Sue spotted the first murre egg on May 26, 1996. Six pairs bred that first year, fledging three chicks and the ten-year goal of 100 pairs was reached in 2000—just five years after the project began.
I made annual trips to California, each year helping to adapt the field methods to the progress of the year. In the fall of 2002, Gerry McChesney took up leadership of the project and has continued in this capacity to the present day. Such long term dedication is one of the characteristics of successful seabird restoration projects. Each year another team of seasonal biologists continued the monitoring of the rock, each adding another chapter to what has become an unqualified success. Unlike the Maine seabird restoration projects, the Devil's Slide Rock colony no longer requires active, ongoing management. Disturbance from low flying airplanes and raids by Common Ravens are now the greatest threats. The last of the decoys, mirror boxes and sound systems were removed following the 2005 season to provide more room for growth of the colony until by 2014 the colony had increased back to its original 3,000 birds as before the spill.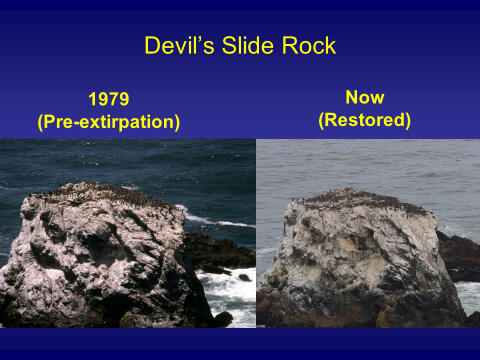 Considering all of the places that this project could have gone astray, the 20th anniversary of the start of the project was clearly a cause for celebration. Harry began organizing more than a year ago for the party that attracted about 50 current and past murre team members and partners, but he was not among those that gathered last night. Tragically, he recently learned that he had only weeks to live from terminal cancer.
This morning, while looking out over Devil's Slide Rock with Mike Parker, Gerry McChesney, Jean Takekawa, Jen Boyce, Dan Welsh and other loyal murre team members, we learned that Harry had passed away just two hours earlier. Unlike my first visit, 23 years earlier, I noticed that the sea was strangely calm—oddly it was gently lapping at the base of the Rock. It was hardly the kind of day that would have tested Harry's zodiac skill—but it was a day that gave everyone cause to rejoice. As if they were having their own celebration, about 2,000 murres were jostling for a bit of precious turf atop Devil's Slide Rock. Each a living testament to Harry's vision that people doing the right thing in the right place can make a real difference on the side of life.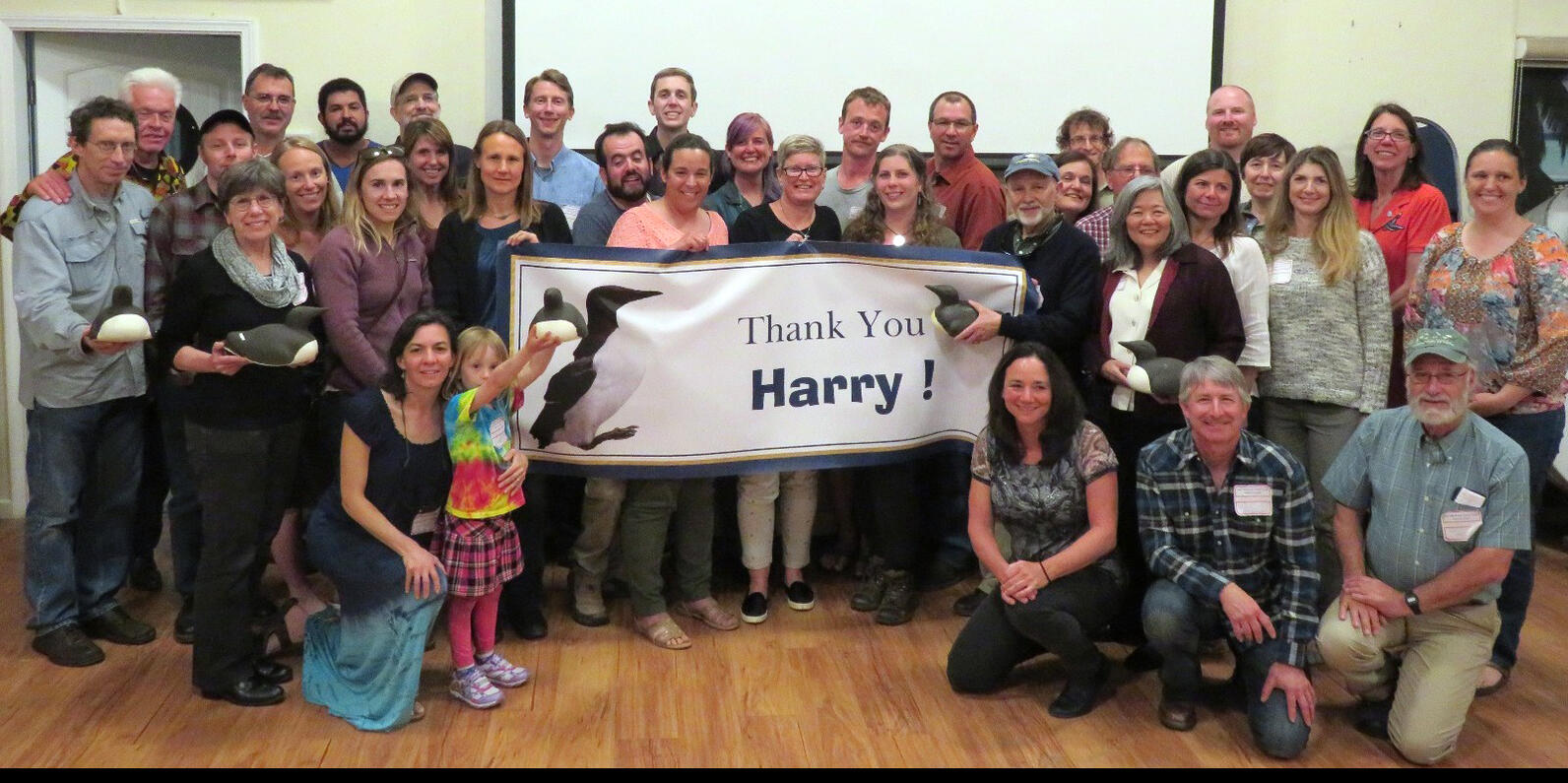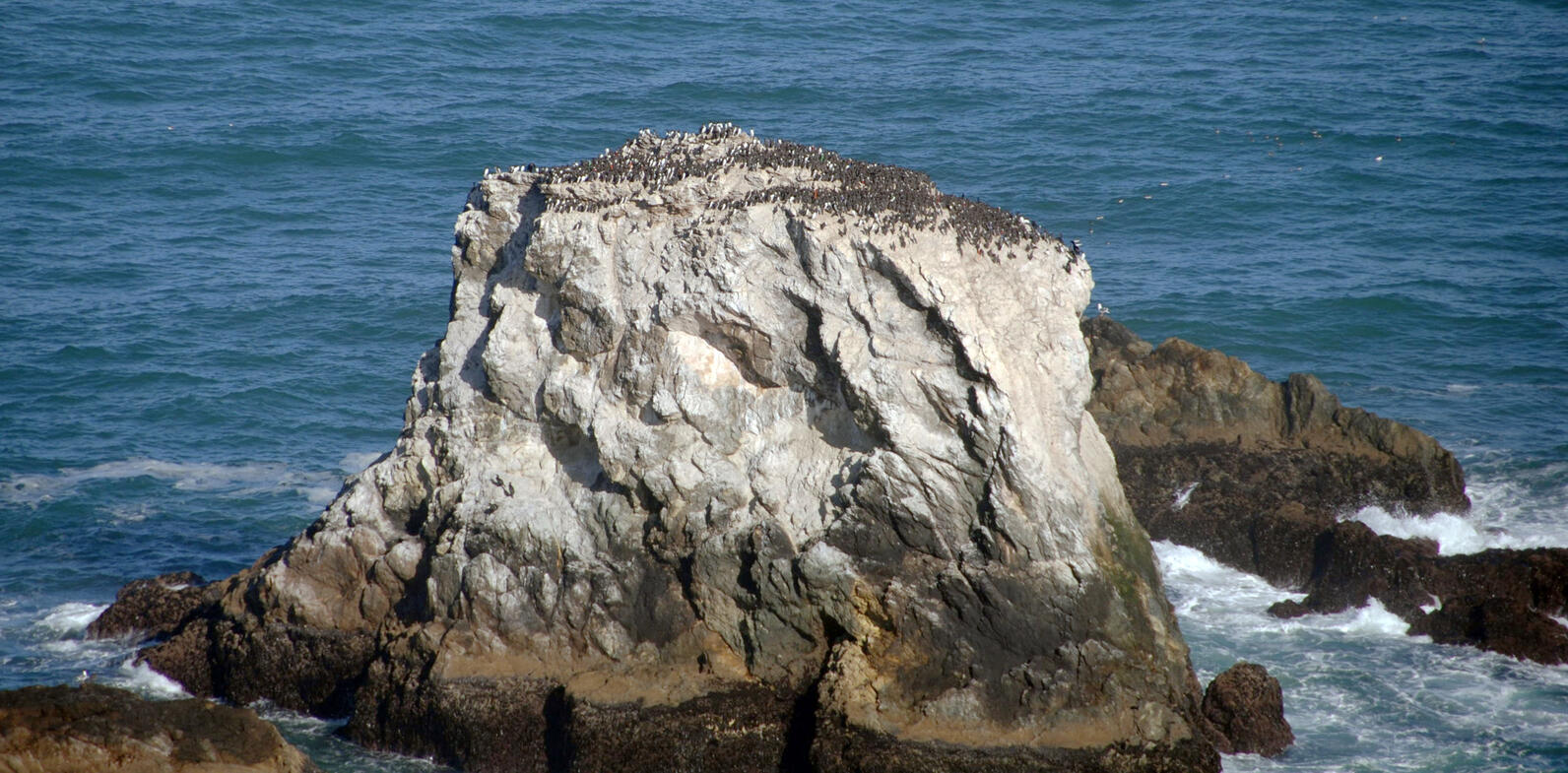 Learn about birds and take action
Adopt-A-Puffin
Adopt now and receive: A Certificate of Adoption, A biography of "your" puffin, and The book How We Brought Puffins Back To Egg Rock by Stephen Kress.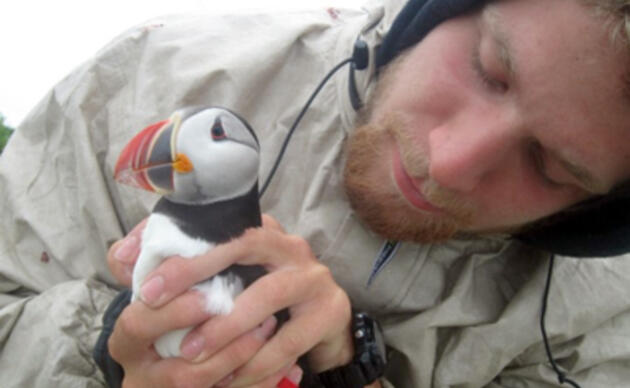 Visitor Center
The Project Puffin Visitor Center (PPVC) is located at 311 Main Street in downtown Rockland, Maine. The center opened its doors officially on July 1, 2006.