Programs
Extracurricular Activities
Adopting a puffin is fun and educational!
Raising funds for a puffin adoption teaches students about biology, conservation, math skills, goal-setting and interaction skills with friends and community. Schools and groups that have already adopted a puffin have raised funds for their puffin adoption in very creative ways, such as: Lemonade sales, collecting change in a jar, bake sales, popcorn sales, creating greeting cards and bookmarks to sell, collecting aluminum cans for recycling, jumping rope, doing chores, read-a-thons, walk-a-thons, bird-a-thons, car washes, or rummage/yard sales.
For every $100 donation, you will receive a puffin biography which describes the history of a real life puffin from hatching day to its most recent summer season, a color photo of your puffin and a certificate of adoption. You can receive our book Project Puffin: How We Brought Puffins Back to Egg Rock.
Teacher packets of supplementary materials are available from our online store, including puffin pencils, activities, and more.
When adopting, please let us know the name and address of your school or group and what name you would like on your adoption certificate (e.g.. Mrs. Smith's Third Graders, or Puffinville Puffin Protectors). This and any other information you feel we need to know can be entered in the donor notes box in the online order form.
Learn more about adopting a puffin.
Learn about birds and take action
Adopt-A-Puffin
Adopt now and receive: A Certificate of Adoption, A biography of "your" puffin, and The book How We Brought Puffins Back To Egg Rock by Stephen Kress.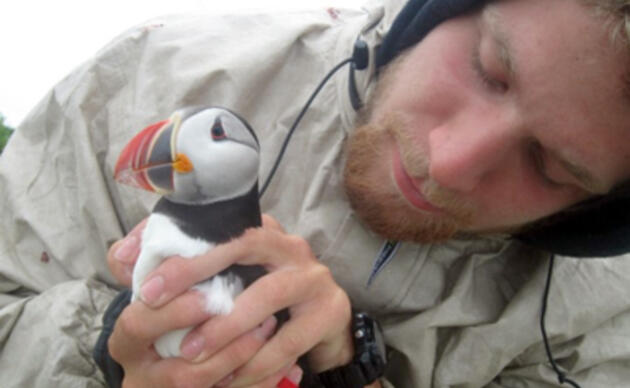 Visitor Center
The Project Puffin Visitor Center (PPVC) is located at 311 Main Street in downtown Rockland, Maine. The center opened its doors officially on July 1, 2006.