Visit
Tuesday Children's Activities
Inspiring the conservationists of the future.
July 11 – Feeding Frenzy – Kids will learn how interrelated the fisheries and the puffins are, along with the other threats that puffins and seabirds experience.
July 18 – Build-a-Bird – How can those little puffins, smaller than a lobster buoy, spend years out on the open ocean? Seabirds are spectacularly adapted to life at sea! Learn how seabirds have become specialized for living in the sea.
July 25 – Observation and Behavior – Learn to think like a biologist! If you were living on an island with 5,000 seabirds, what questions could you ask and answer? Kids will learn to think like scientists by observing animal behaviors and learning how to conduct research.
August 1 – Food Webs – Kids will be introduced to food webs and will understand the relationships between predator and prey, along with humans and the ecosystems they interact with.
August 8 – Friendly Feathers – Kids will learn how important feathers are to birds and especially seabirds that need to withstand the elements.
August 15 – Migration Destination – Why do some birds migrate? Why do some birds live in the same place all year long? Kids will learn why some birds migrate and will play Migration Headache which will emphasize the importance of preserving natural areas for migration.
August 22 – The Chicken or the Egg: An Exploration of Birds from Before the Big Bang! – We know people have changed over millions of years but what are the origins of birds? How did people come to know them? From dinosaurs to chickens, from squinting to binoculars, kids will explore a brief history of birds and birding.
Presentations Begin at 1pm. Space is limited, so please call ahead to reserve a seat: 207-596-5566
Project Puffin Visitor Center address:
311 Main Street
Rockland, ME 04841
Phone: 207-596-5566
OR (toll-free within the USA): 877-4-PUFFIN (877-478-3346)
Learn about birds and take action
Adopt-A-Puffin
Adopt now and receive: A Certificate of Adoption, A biography of "your" puffin, and The book How We Brought Puffins Back To Egg Rock by Stephen Kress.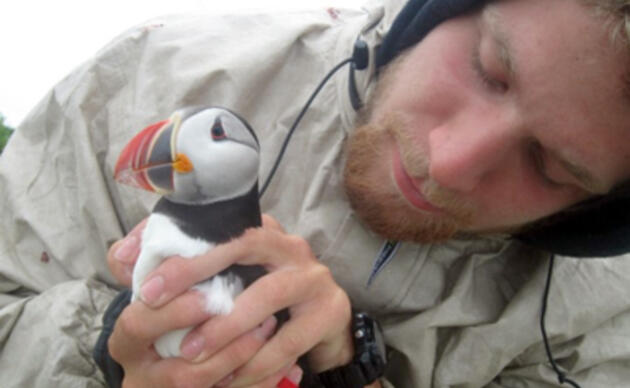 Visitor Center
The Project Puffin Visitor Center (PPVC) is located at 311 Main Street in downtown Rockland, Maine. The center opened its doors officially on July 1, 2006.