News
The Seabird Institute at Work in 2021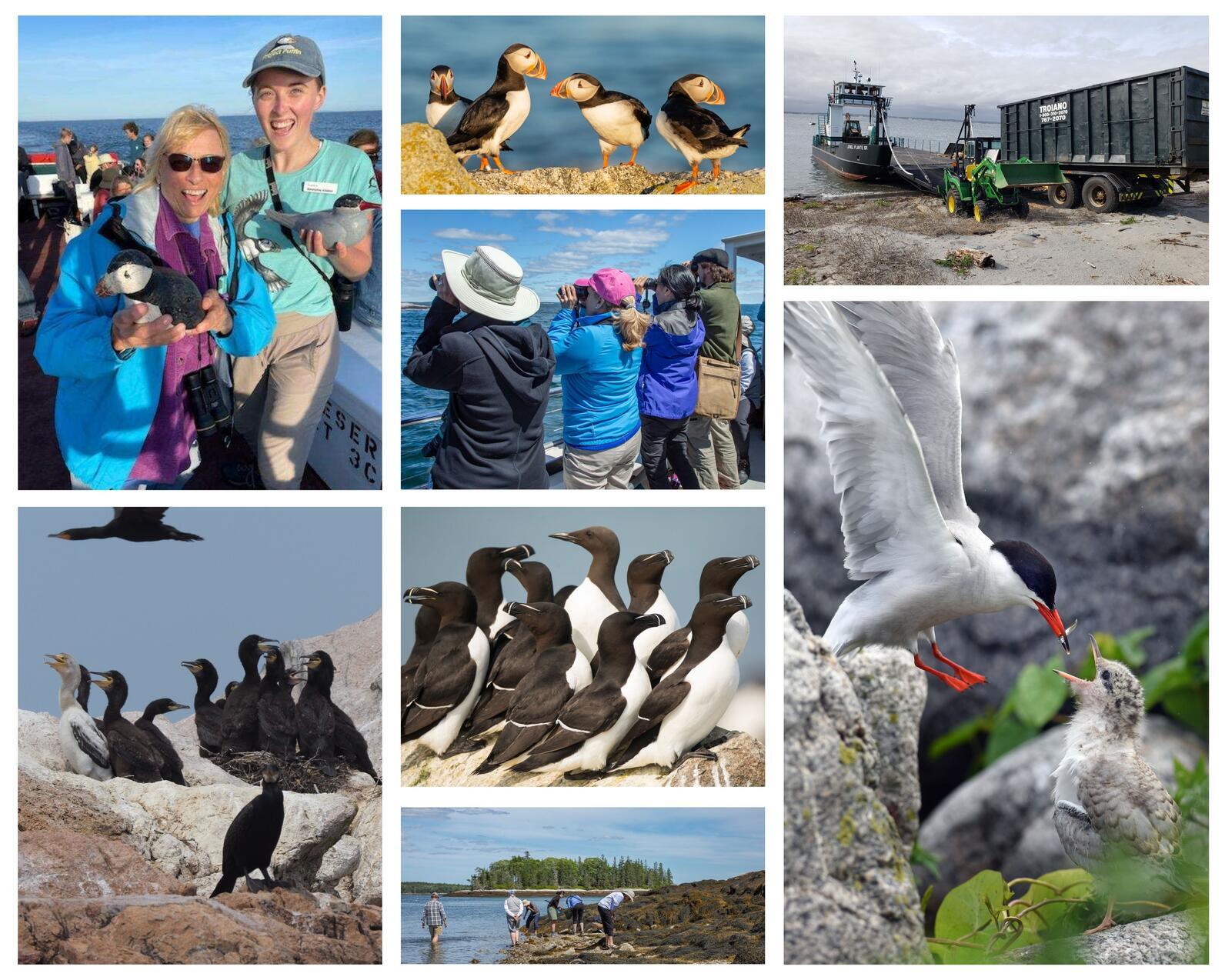 This season marked the 40th year since the return of nesting Atlantic Puffins to Eastern Egg Rock in Maine. As if to help commemorate this remarkable success, one of the pufflings brought to Maine from Newfoundland as part of this pioneering restoration effort was found nesting on Matinicus Rock at the age of 32! This year our scientists listened as puffins and other seabirds sounded the alarm on climate change. Continued success for seabirds is tied to healthy marine environments on which we all rely.
We listened to what seabirds are telling us about their changing environment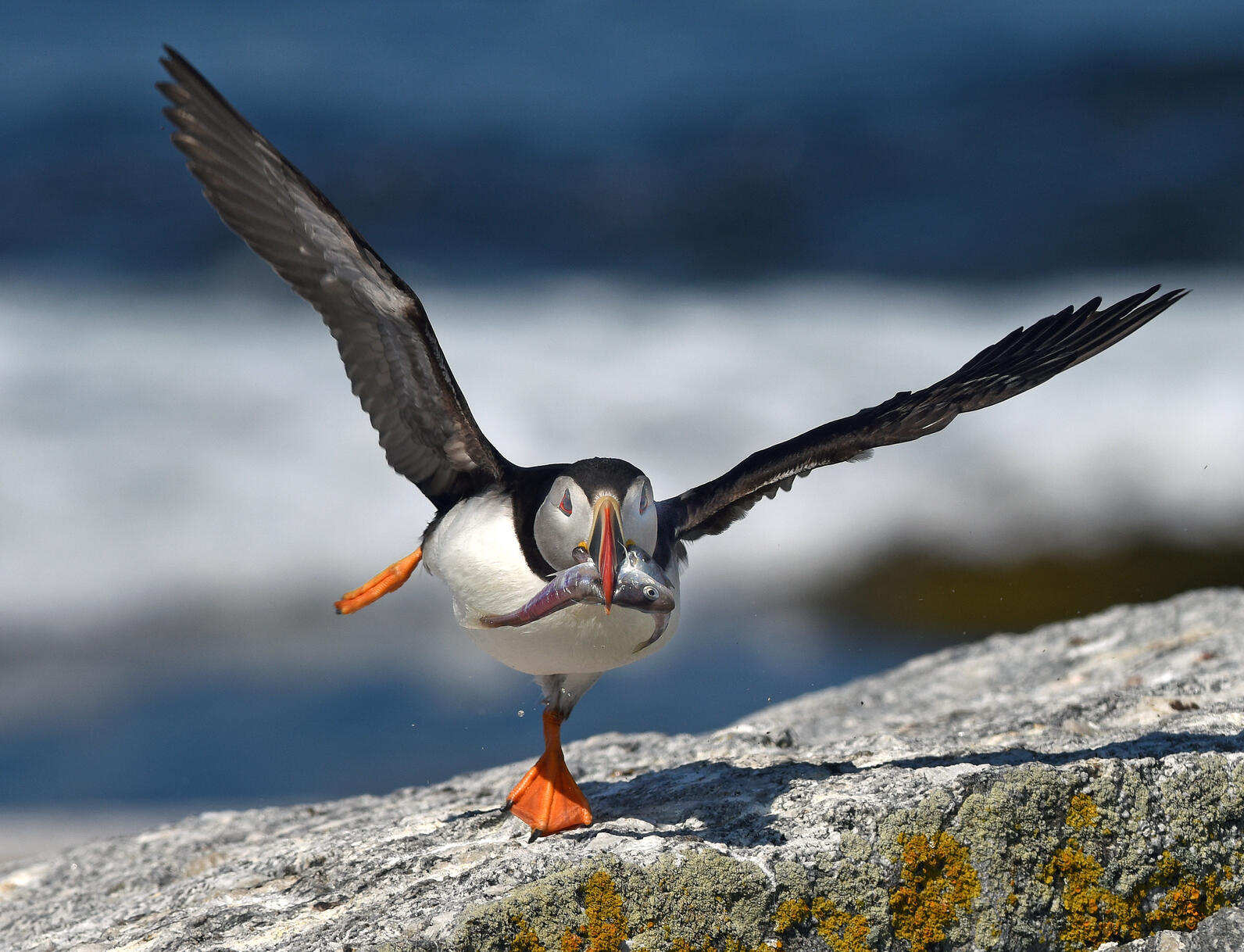 As one of the fastest warming bodies of water, the Gulf of Maine serves as a litmus test for climate change. Rough Scad, a low-quality warm water fish, was found to be a significant contributor to puffin diets. It's prevalence likely signaled that seabirds were struggling to find their preferred prey like herring and hake. Without suitable forage fish, many chicks went hungry. Unusually cool, wet weather in July also took its toll as young tern chicks struggled to maintain their body temperature. There is also good news to share, however. Black Guillemots had a strong season on Outer Green Island, a new high of adult Razorbills were counted on Matinicus Rock, and Seal Island National Wildlife Refuge saw an influx of Great and Double-crested Cormorants.
With offshore wind projects on the horizon for the Gulf of Maine, the Seabird Institute has initiated efforts to track seabirds nesting on our sanctuary islands. This season, Common and Arctic Terns on Seal Island National Wildlife Refuge were fitted with GPS tags to help identify important foraging areas for our nesting species. With this data, we can help inform siting decisions and mitigate potential impacts on seabirds.
We restored and safeguarded seabird habitat near and far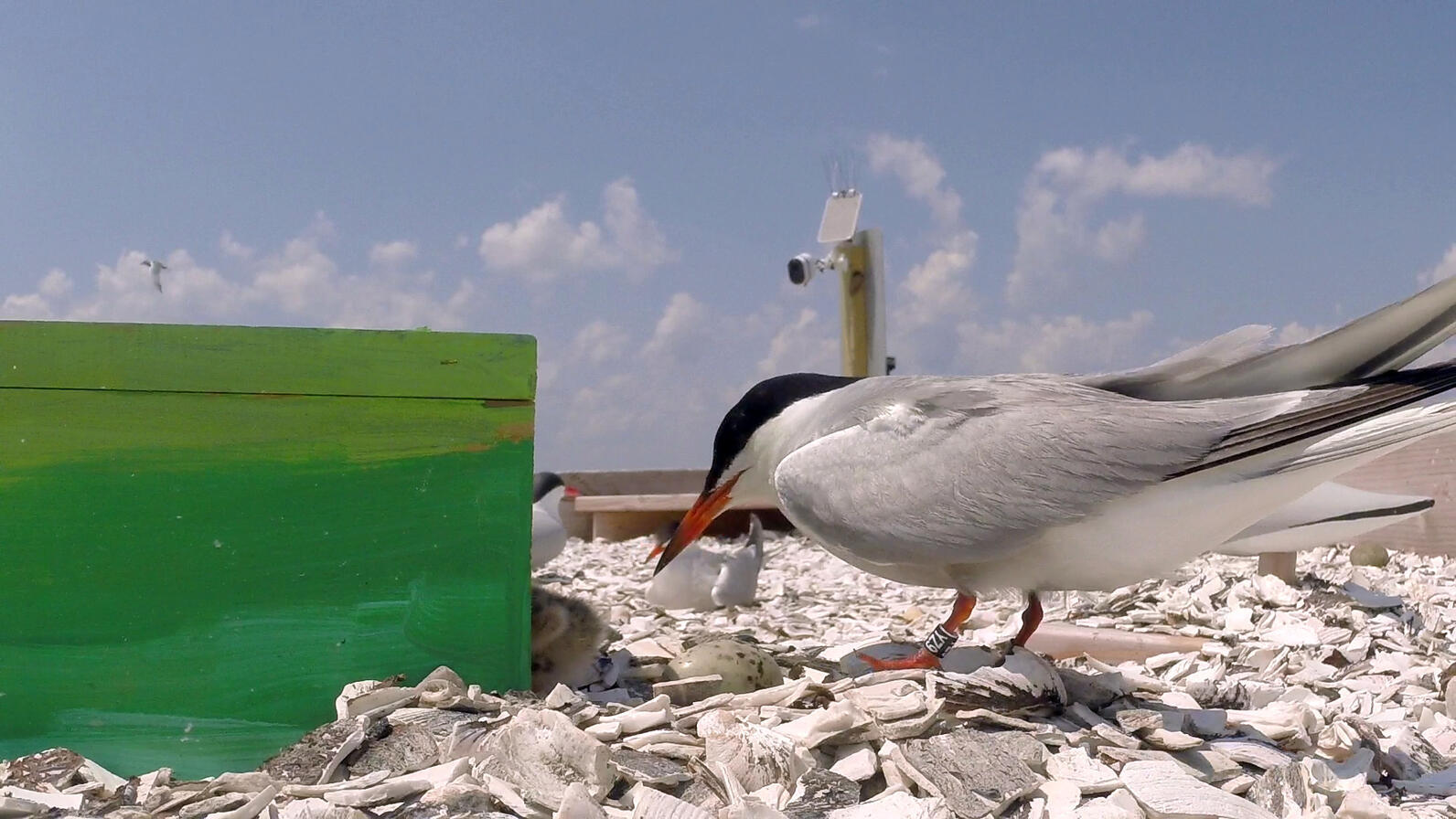 Our ongoing stewardship efforts continued as researchers across our seven islands managed invasive vegetation and marine debris that limits suitable seabird nesting sites. With support from NOAA, Audubon staff and volunteers filled and removed two 40-yard dumpsters with marine debris that washed ashore on Stratton Island. Beyond the Maine coastline, Mad River Decoys by Audubon manufactured over 650 decoys shipped to 20 different locations including Maryland's coastal bays, Curacau, Puerto Rico, Palmyra Atoll, and beyond!
We utilized our network to fight for critical policy wins that benefit seabirds and their resources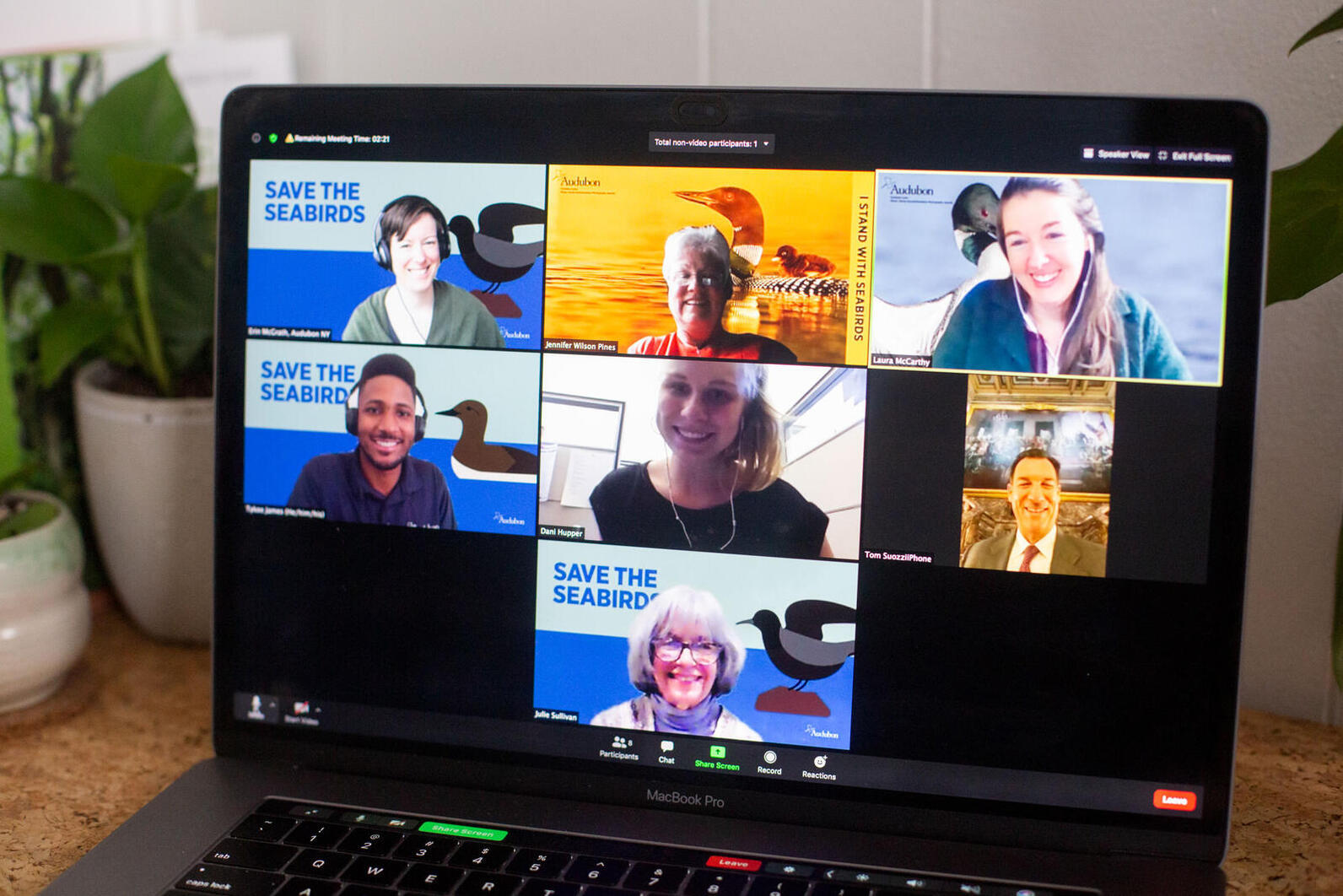 Our advocacy led to greater protection of forage fish that seabirds rely upon in multiple fisheries management forums around the country. We ensured new fisheries would not target Atlantic thread herring and shortbelly rockfish without adequate safeguards for seabirds and other predators. On the federal level, we advocated for the advancement of the Sustaining America's Fisheries for the Future Act, which would reauthorize and update the Magnuson-Stevens Act, and the Forage Fish Conservation Act. Both of which have seen recent movement in Washington.
In its third year, Audubon's Seabird Action Week brought together 70 deeply passionate grassroots activists – the largest group yet – to meet virtually with legislators from across the country and promote action for seabirds. Grassroots action continued to expand, with 15,607 seabird supporters contacting their legislators to act in favor of seabirds, a result of Audubon's action alerts and a 91% increase from 2020.
We shared the story of our seabirds with visitors from around the world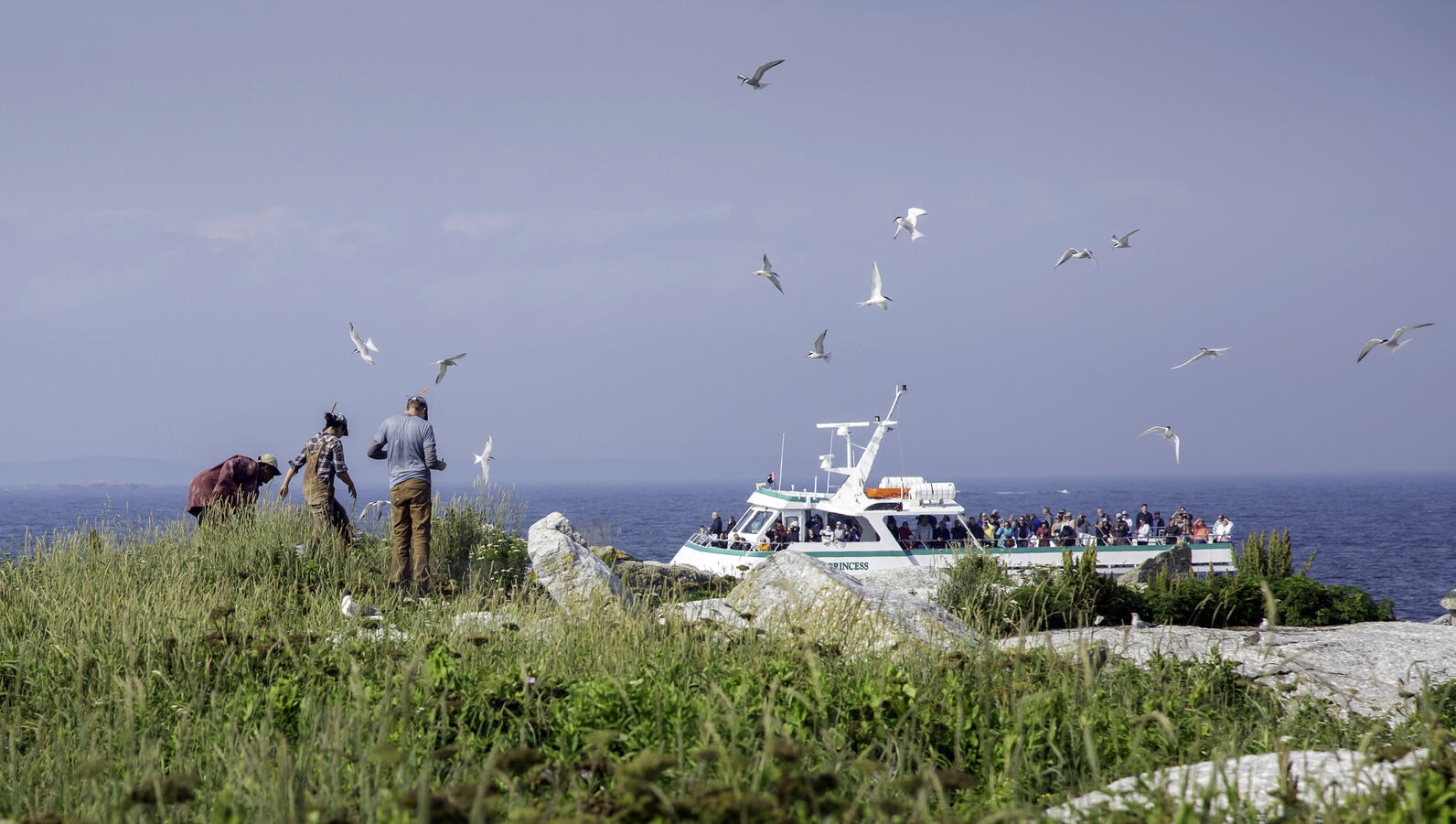 The pandemic pivot created an opportunity to virtually engage with bird lovers around the world. The inaugural "Tern the Page" book club launched in January with nearly 90 participants and will return in 2022. (Space is limited for this program, reserve your spot today!) The popular lecture series, "Making Bird Connections" also returned this year. You can find past episodes on the Hog Island Audubon Camp Facebook or join us live the third Tuesday of each month.
The Hog Island Audubon Camp reopened this spring after last year's hiatus, allowing us to welcome campers back for residential sessions and a new offering, day trips! With COVID protocols in place, we operated throughout the season without pandemic-related interruptions. Save the date, registration for 2022 Hog Island Camp Sessions opens on February 1st! Our partnerships with local tour boat companies helped us enthrall nearly 20,000 visitors on board with the magic of puffins throughout the summer! The Project Puffin Visitor Center also reopened, allowing visitors to experience the critical work of the Seabird Institute in downtown Rockland.
Learn about birds and take action
Adopt-A-Puffin
Adopt now and receive: A Certificate of Adoption, A biography of "your" puffin, and The book How We Brought Puffins Back To Egg Rock by Stephen Kress.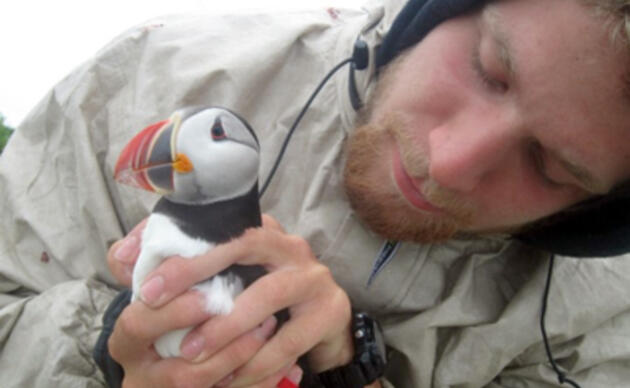 Visitor Center
The Project Puffin Visitor Center (PPVC) is located at 311 Main Street in downtown Rockland, Maine. The center opened its doors officially on July 1, 2006.