News
Seabird Island News - Vol. 12 - 12 August 2022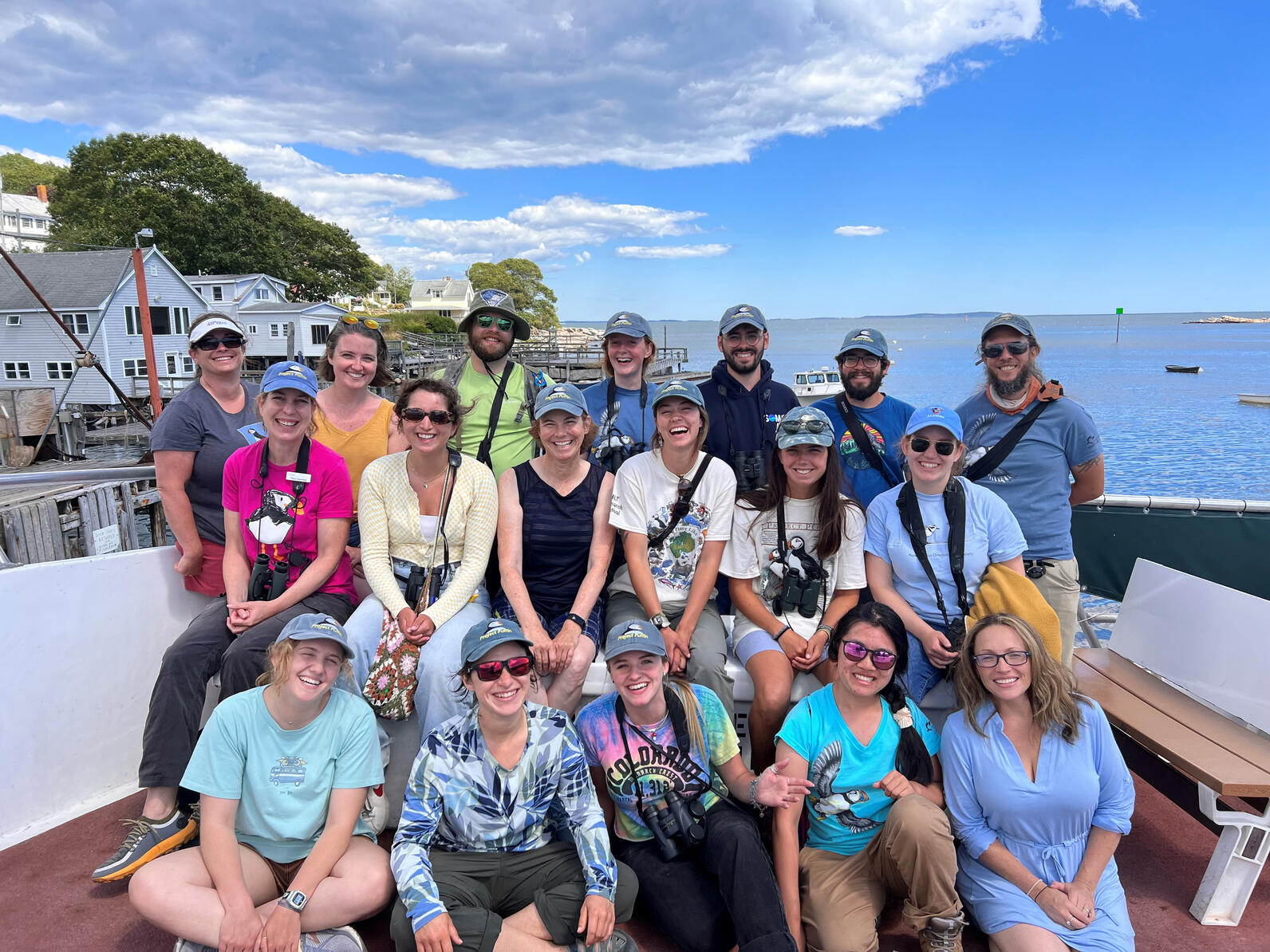 Only Matinicus Rock and Seal Island NWR remain open, as we've welcomed our islanders back to the mainland. Our island teams and outside partners came together for a hybrid-model Gulf of Maine Seabirds Working Group (GOMSWG) meeting on Hog Island this weekend. Island supervisors representing projects from Canada to Massachusettes shared their team's data for the season in the morning, with other research projects presented in the afternoon. The weekend culminated in a group trip on the Hardy Boat for a puffin cruise. With no puffins to be seen, we returned to the mainland to say our goodbyes. Like many of our seabirds, our researchers are onto their next adventures.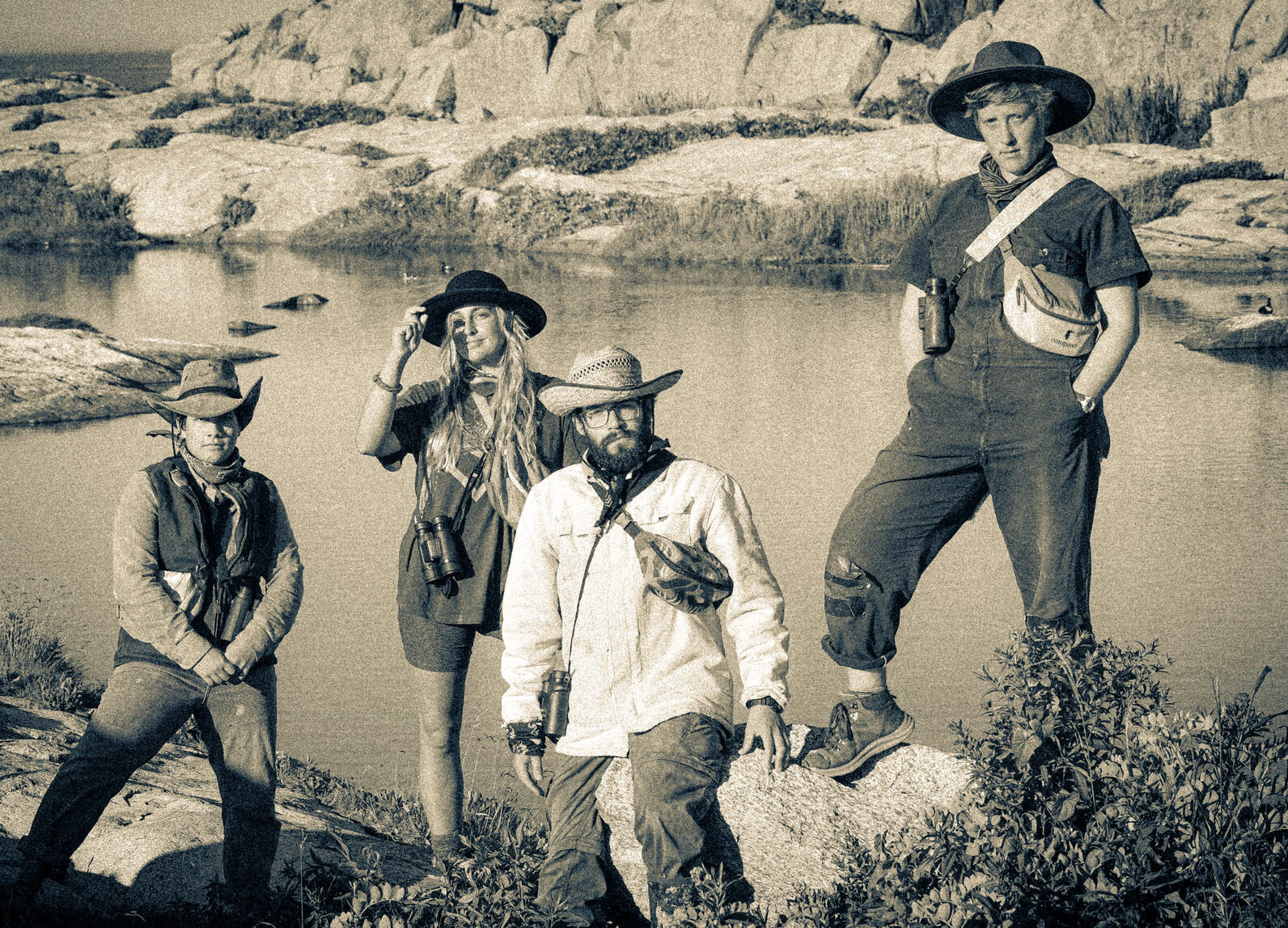 Seal Island NWR
The island giveth, and the island taketh. The island taketh strong ankles, pens, any expectations of cleanliness, flashlights, and the soles of our shoes. The island taketh our early mornings, watching the hot pink sun crest the horizon as puffins fly in with bill-loads of fish, and our late nights, catching soft surprised storm-petrels under the spilling light of the Milky Way. The island humbles, and the island awes! We are amazed by the resilience of our seabirds, who returned to these shores after a season of starvation in 2021, and have raised gorgeous, sleek chicks in 2022. As the compounding pressures of climate change and surprise challenges like avian flu close in, they adapt and strive, and we hope to do more than just stand in awe. The island giveth glimpses of Snowy Owls in the fog, a Tufted Puffin on Atlantic granite, downy "dragonbaby" cormorant chicks, and cold waters to comfort warm bodies. The island giveth more sunshine than we know what to do with, thousands of terns coalescing to chase off a Peregrine Falcon at dusk, sweet wild strawberries, dark-eyed Gray Seals to watch over us, and those lost flashlights come back to us. The island taketh, and the island giveth!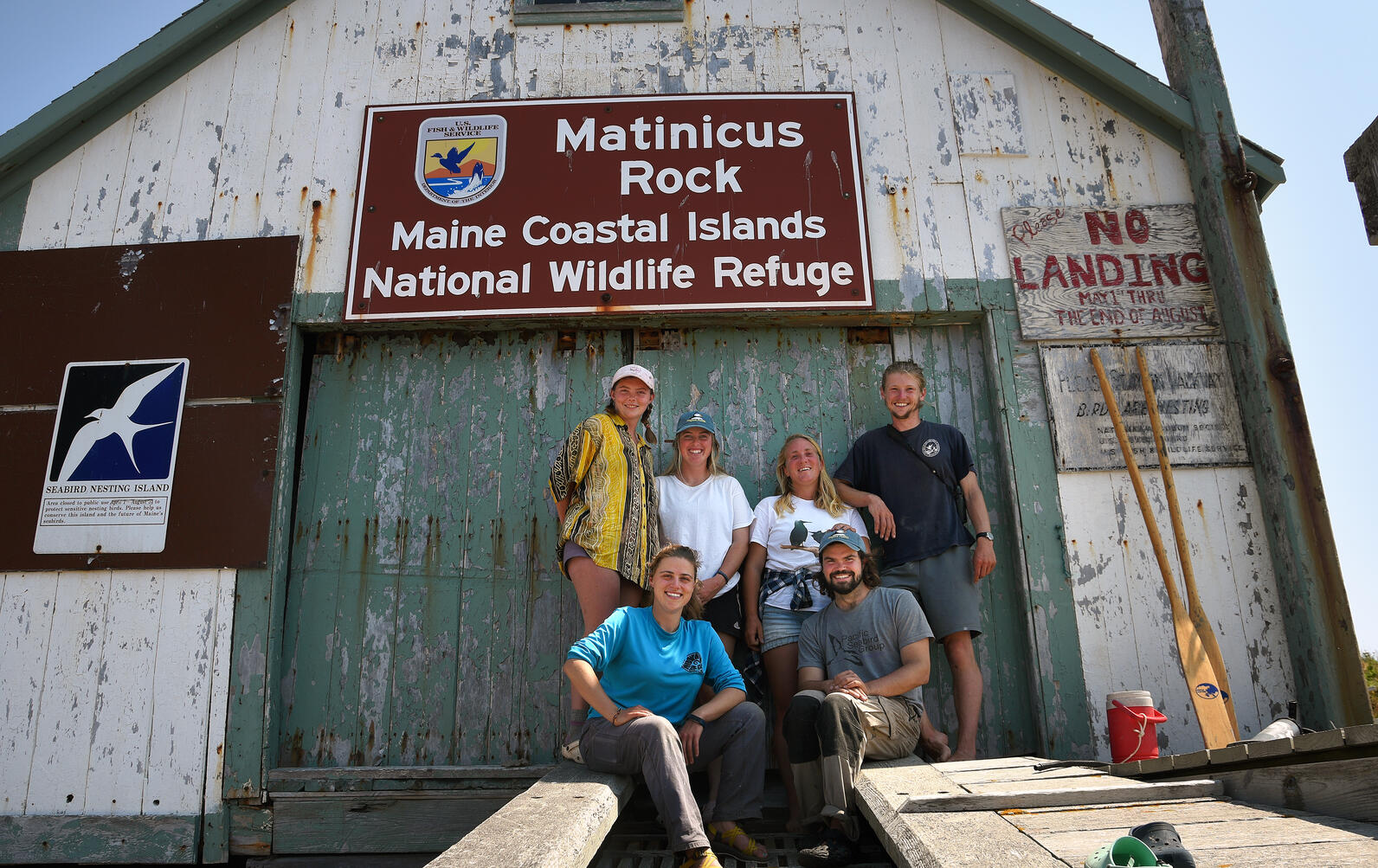 Matinicus Rock
Matinicus Rock is at the easternmost edge of the waters monitored by the Seabird Institute, sharing open ocean views with Seal Island, our sister colony to the north. Our season begins in the whipping winds and damp cold of May, when each day pulls the terns a little closer to the island, and we meet the anxious gazes of puffins incubating in rock-jumble burrows with anticipation of their squishy chicks. By August, we have watched the island's low western meadows flourish and then desiccate in the heat of our brief summer, and the island has grown quiet again as our terns depart for staging grounds on Cape Cod. Puffins and guillemots whose hiding spots we have come to know make their way across the rocks and off ledges in the middle of the night, leaving us peering into empty spaces. The razorbills are long gone, as are the few murre chicks who carry with them our hope for future recruitment to our nascent colony. The real joy of August is in the tubenoses—the leach's storm petrel chicks, whose round bellies fill the cup of your palm during productivity checks, and the lilac-legged Manx Shearwater chicks, whose rarity in North America gives them the air of mystical creatures. Like all seabird colonies, and remote islands, this place feels infinite in its reward of intimate knowledge. From the chick who takes three years to band—one year to watch feeds, the next to find the chick, the third to pull it from the rocks and hold it in your hands—to the stories told by the people at the heart of this project who have cared for and known this place for decades, and still make everything we do possible. The historic context of this place, layered onto our own experiences, frames each season through the lens of years to come. Every colony has cycles of good and bad years for productivity, but 2021 was the first season that felt like a true vision of unmitigated climate change. The decent productivity of 2022 seems like a miracle in the wake of that experience. The story of this project is an uplifting one, of people hoping tenaciously, with a work-ethic and creativeness to match, for decades. As a result, we study and protect these established colonies, and we get to resight birds who we banded as chicks years before returning to breed. We hope that the work we do now benefits seabird populations, but we know that the factors impacting their survival reach far beyond our visibility points.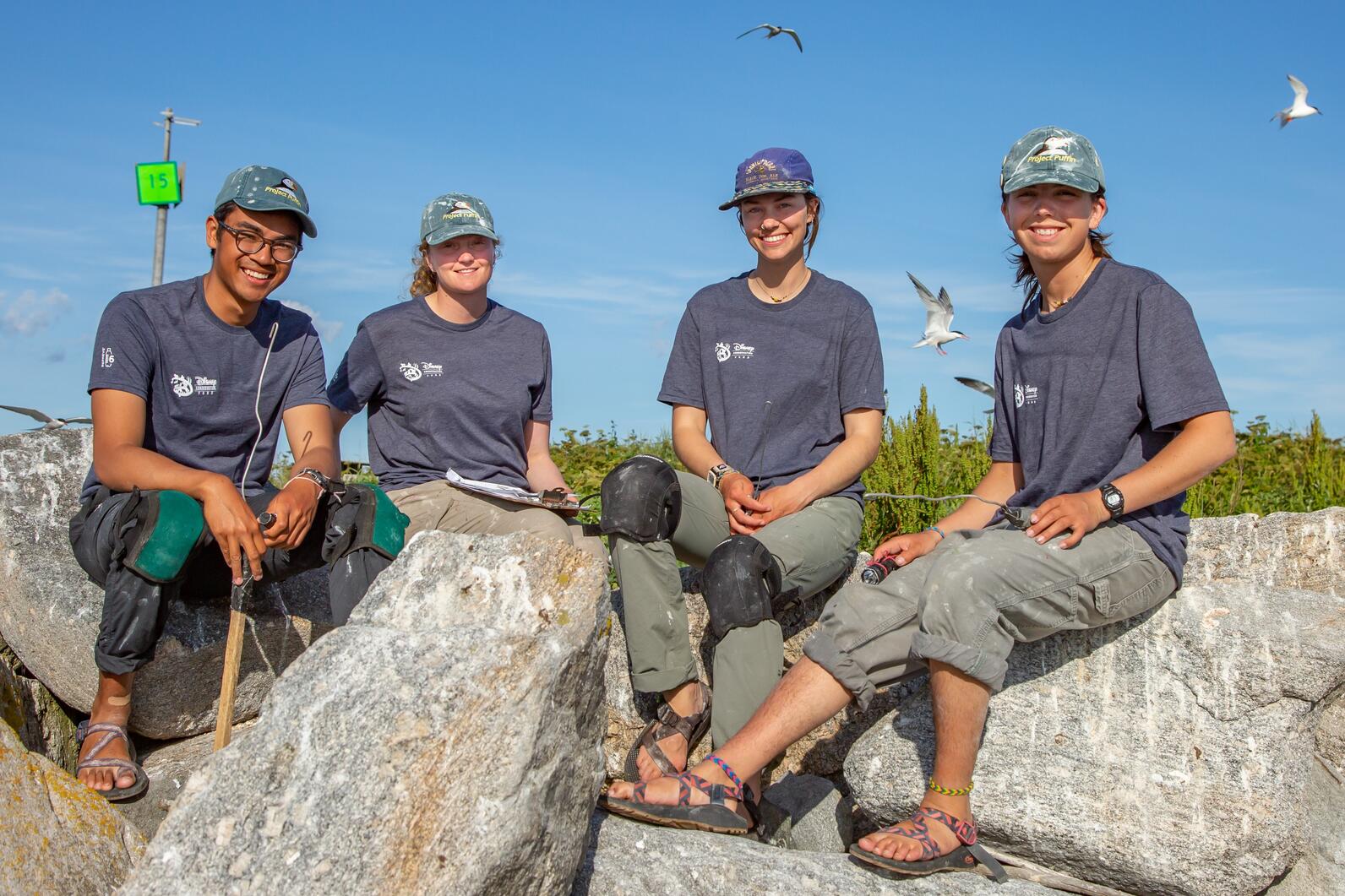 Eastern Egg Rock
This crew came from near and far, having never worked with seabirds, and not completely knowing what to expect. Over the past few months, we have learned so much about these birds and about ourselves. We're grateful for all the new experiences we were able to share while conducting research, from watching the terns and guillemot chicks grow week by week, to grubbing hard to reach pufflings, to recording seabird diets, and nighttime mist netting for storm petrels. The joys of fieldwork were combined with brownies, daily swims, ukulele playing, dance parties, and many, many laughs. Now, just like our fledgers, we must leave having been impacted greatly by this tiny, extraordinary island.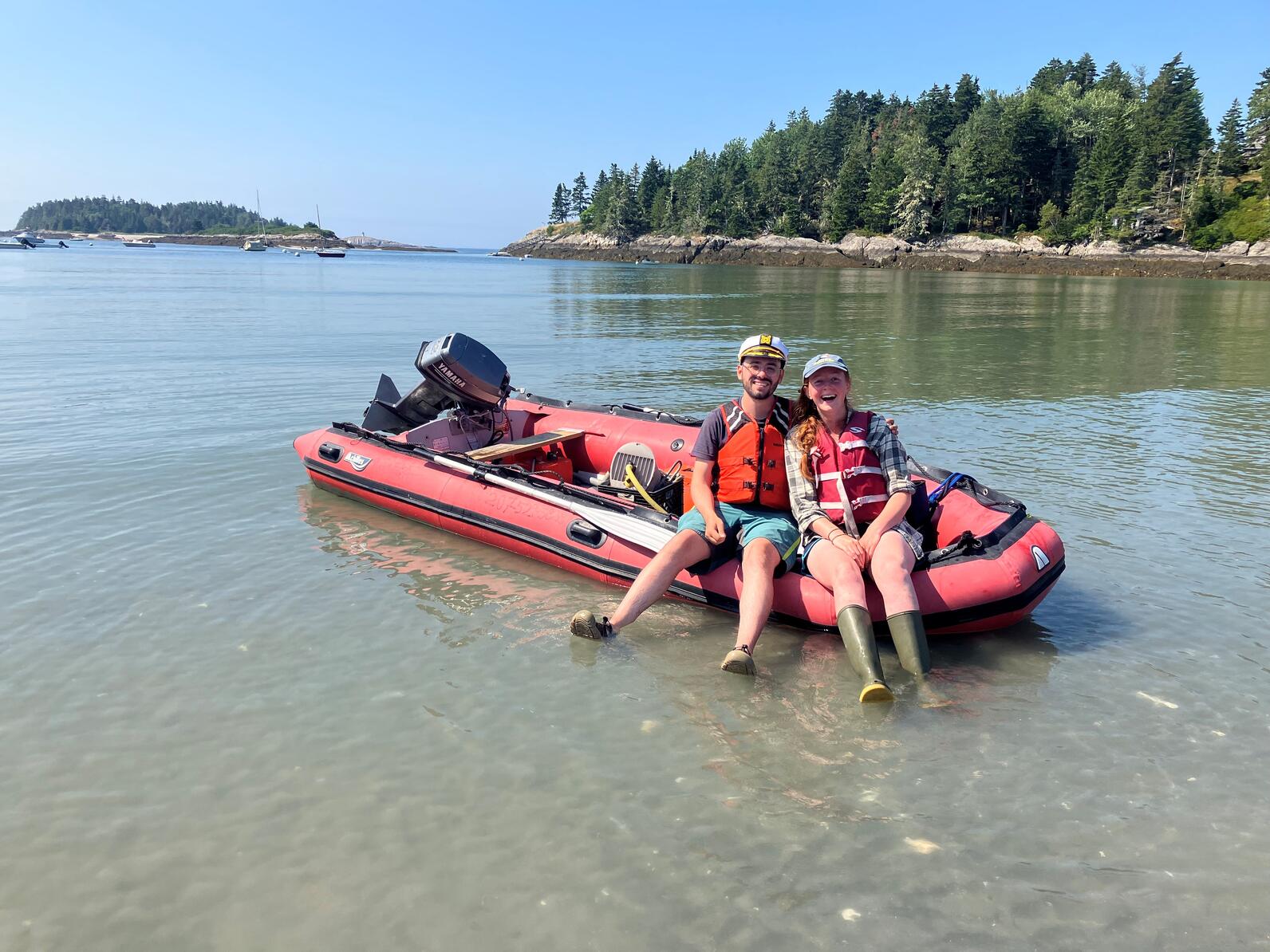 Pond Island NWR
Our summer on Pond highlighted our terns' resilience to everything the world can throw at them. Last year, after suffering a barrage of predators, the terns faithfully returned to Pond Island NWR, and seemingly had an easy go of things at the start - no owls, minimal falcon disturbance, no night herons snatching up chicks - however, this year we detected the presence of avian influenza in the colony. We were luckily spared from widespread colony devastation, but it was heartbreaking to find flu-stricken adults and fledglings throughout the season.
The terns are tenacious, though, and with good feeding rates and no predators, our colony still reported high productivity and a high census count (1,580 nests!). We spent some quality time with a Great Black-backed Gull that we rehabilitated on-island ("Mr. Gull"). There were many sightings of migrating warblers and waders, along with Black Skimmers and Bonaparte's Gulls. Our personal favorite sighting was a Great Shearwater that hung out for a day.
Jenny Island
Jenny and I have a very good relationship - we understand each other. After my fourth season on this tiny, but mighty island, I knew enough about her to never expect to be unsurprised. Each year is different, bringing its own quirks and situations. 2022 was no different. Within two weeks upon landing, I was reminded of this by a great gift from the sea - a freshly dead ram, washed up on the shore by the night's tides. June was relatively normal, bringing its usual challenges during peak chick hatch; long banding stints, getting mobbed by angry parents and becoming absolutely filthy with bird poop. You know...a typical day at the office. However, once July came, I once again found myself sailing in unknown waters, with a Black-crowned Night-Heron visiting every night, harassing adults, eating small chicks, and keeping me up way late, trying to find ways to stop it. That guy showed up almost every single night, for 27 days, and in the end, there was nothing I could do about it because of its endangered status. However, "Wee Jen" remained mighty, boasting its second-largest nest count ever, at 1899 Common Terns, and finally, a better productivity than the last 2 seasons, having more happy fledglings galivanting around the island in the end. I'm proud of Jenny and the terns, but also, I'm proud of us, too.
Outer Green Island
OGI is an incredible island, teeming with life and potential. We were truly honored to witness all of it throughout the season, shedding laughter and tears - happy and sad - while out there in the field. The Emerald Gem of Casco Bay treated us well, and this season was definitely a success as our prolific Common Tern colony continues to grow and grow each year! We had the privledge of watching tiny chicks we banded grow up, discovering new Black Guillemot burrows, and following the stories of individual parents and chicks as they persevere through the always variable weather, competition, illness, and food availability. We 100% got attached to all of the individuals we monitored, naming a whopping total of 224 banded birds and loving each and every one. We left Outer Green with many emotions welling up, the world around us just so surreal as the island shrank in the horizon as we boated away. Ultimately it was bittersweet, for although we were sad to leave, we too must fledge and move forward as time marches on. We'll miss OGI, but value the lessons we learned and beautiful raw nature we observed along the way.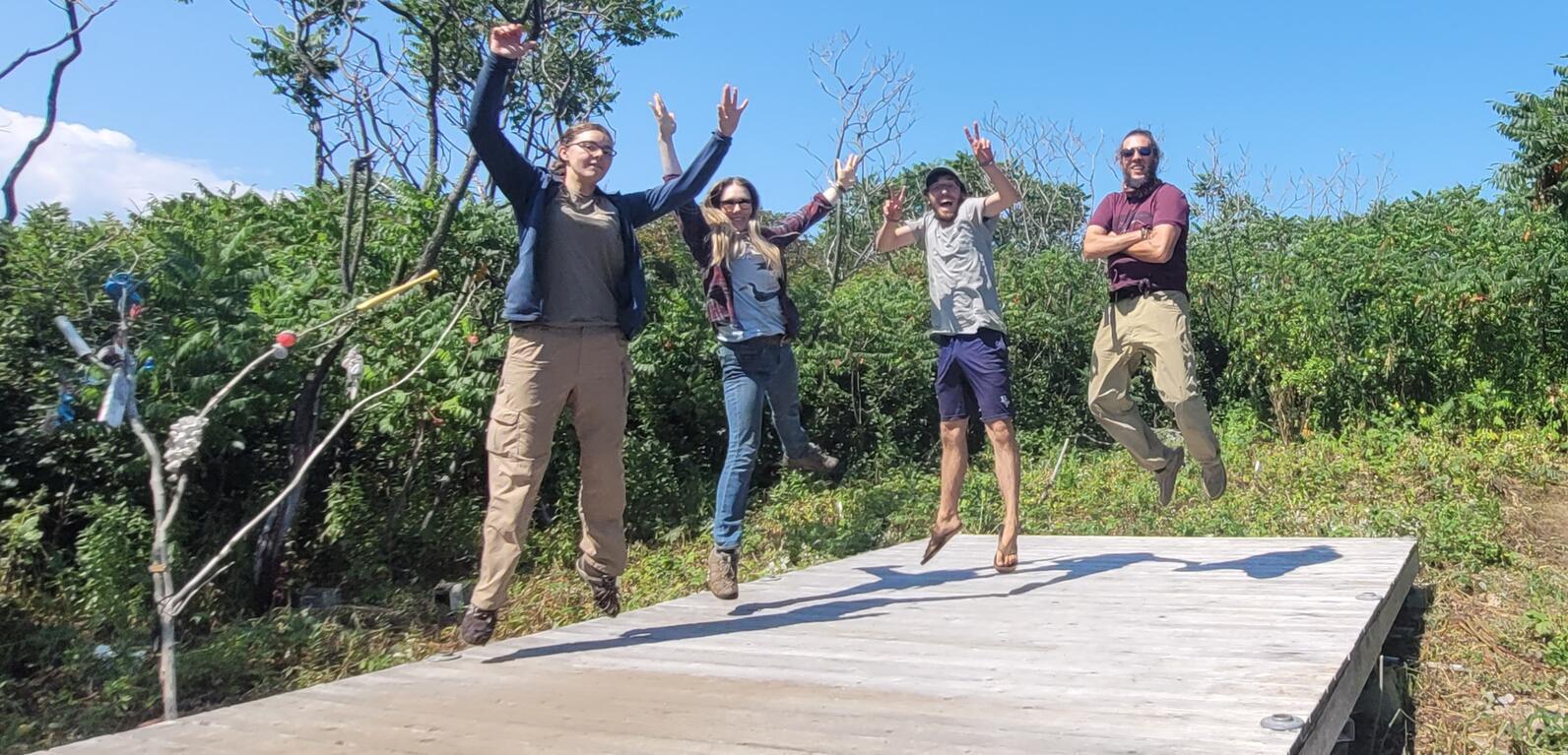 Stratton Island
Triple Crown, Island Contest Winners!
"I came for the terns. I stayed for the terns. I leave with the terns." - Shannon
"It's prod o'clock my dudes... NYAAAAAA!" - Jazmine
"As a researcher, I was a witness to a migratory story that started long before I was born, and due to our efforts, will continue long after I am gone. I was also a witness to an eider flying full speed into my blind during a feeding study stint (all miraculously walked away unharmed)." - Ted
" Always kick your Crocs into Sports Mode." - Michael
Learn about birds and take action
Adopt-A-Puffin
Adopt now and receive: A Certificate of Adoption, A biography of "your" puffin, and The book How We Brought Puffins Back To Egg Rock by Stephen Kress.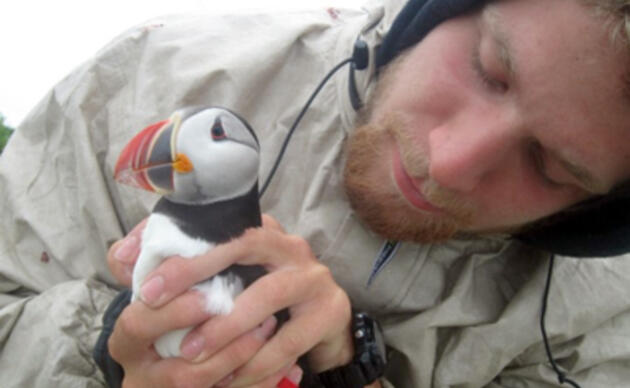 Visitor Center
The Project Puffin Visitor Center (PPVC) is located at 311 Main Street in downtown Rockland, Maine. The center opened its doors officially on July 1, 2006.