News
Seabird Island News - Vol. 4 - 18 June 2021
Seabirds
Terns
Chicks of all four tern species have begun to hatch and adult terns became increasingly defensive of their nests. As researchers participated in the Common Tern Census in partnership with the Gulf of Maine Seabird Working Group, they dodged terns and guano, some with more success than others. Stratton Island recorded 1,315 Common Tern nests, Outer Green Island recorded 1,660 nests, Eastern Egg Rock reported 1,359 nests and Jenny Island reported a whopping 2,044 nests, up from 1,400 last year!
After the removal of the Pond Island NWR's owl visitors, other predators, ravens, have visited the island in the predawn light Slowly, more terns have begun spending the night on the island, however; the Pond Island team estimates being down 500-600 pairs this season from last year's census. This may account for the boom on nearby Jenny Island.
Alcids
The research team on Matinicus Rock discovered its first puffin chick of the season on June 14th. Razorbill chicks continue to be discovered on the island and this week saw a count of 89 Common Murres.
Other Bird News
An unofficial record, the Seal Island NWR team banded 135 Leach's Storm-Petrels in one night.
American Oystercatchers continue to hatch on Outer Green Island.
The Laughing Gull hazing efforts on Eastern Egg Rock have paid off. The team counted 251 nests, which is 923 less than last year. Way to go!
Island Life
This week's mix of sun, fog and rain gave researchers a mix of work, play and rest. During the wet stretches of weather, researchers could be found swimming with seabirds, watching movies, enjoying the island sunsets, and cooking up dishes that made their mainland counterparts drool. You can find the recipe for Outer Green Island's Greek Chicken and rice below, and also find out how to make Eastern Egg Rock's Pineapple Boat from last week!
RECIPE
Greek Chicken
by Researchers Cat Neal and Kate Marthens, Outer Green Island
Here is how to make it:
Saute chicken in oil and remove from pan
Saute onions, bell pepper and garlic in plenty of olive oil
Add dry rice and heat until rice turns transluscent
Add chicken stock and canned tomatoes and bring to boil
Reduce heat and cover until rice is done.
Add the cooked chicken and fresh spinach to wilt and squeeze lemon juice over it.
Serve with crumbled feta cheese, crushed black pepper and a glass of wine
For additional news, please visit the Seabird Island News index page.
Learn about birds and take action
Adopt-A-Puffin
Adopt now and receive: A Certificate of Adoption, A biography of "your" puffin, and The book How We Brought Puffins Back To Egg Rock by Stephen Kress.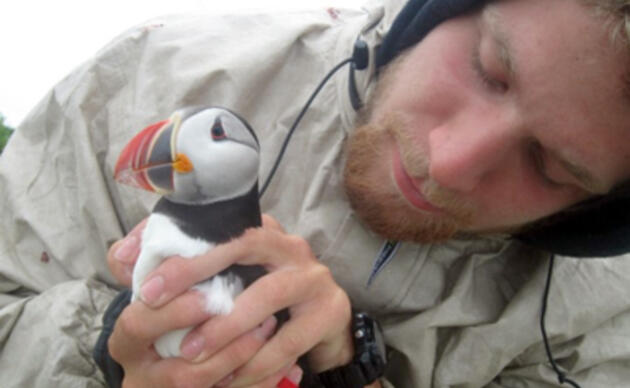 Visitor Center
The Project Puffin Visitor Center (PPVC) is located at 311 Main Street in downtown Rockland, Maine. The center opened its doors officially on July 1, 2006.